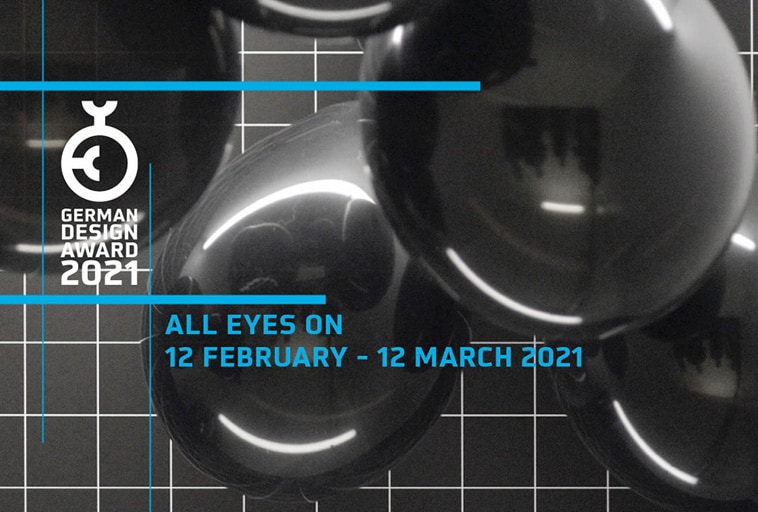 25/01/21
»All Eyes On« – A new setting for the presentation of the winners
For the presentation of the winners of the German Design Award 2021 and the exciting topics surrounding their designs, the digital programme »All Eyes On« has been developed.
Starting on 12 February 2021, presented in various formats over a period of four weeks »All Eyes On« includes the following highlights:
All Eyes On Gold: This year's gold winners in the award disciplines »Excellent Architecture«, »Excellent Communications Design« and »Excellent Product Design« as well as the jury's statements.
Newcomer Finalists: Showcase of newcomer finalists and highlight their exciting projects and achievements in various areas of design, research and entrepreneurship.
Newcomer of the Year 2021: Present the winner of the »Newcomer Award 2021«.
Round-Tables: Diverse entrepreneurs, scientists and design experts discuss trends and strategies in the areas of Innovation, Branding, Sustainability and Digitalisation with Lutz Dietzold (CEO German Design Council).
Experts' Favourites: Renowned designers, entrepreneurs and journalists present their personal favourites among this year's award winners.
»Personality of the Year«: Paola Antonelli, Senior Curator of the Museum of Modern Art (MoMA) in New York, and »Personality of the Year«. In her interview with Lutz Dietzold (CEO German Design Council), the trained architect will talk about highlights of her curatorial work as well as the international design discourse.
Starting on 12 February 2021, the complete programme will be available soon at https://www.german-design-award.com/en/#eyes
---
German Design Council
The German Design Council has been operating since 1953 as one of the world's leading centres of expertise in communication and knowledge transfer within design, branding and innovation. It is part of the worldwide design community and has always contributed to the establishment of global exchange and networking thanks to its international offering, promotion of new talent and memberships. With events, conventions, awards, jury meetings and expert committees, the Council connects its members and numerous other international design and branding experts, fosters discourse and provides important stimulation for the global economy. More than 340 businesses currently count among its members.