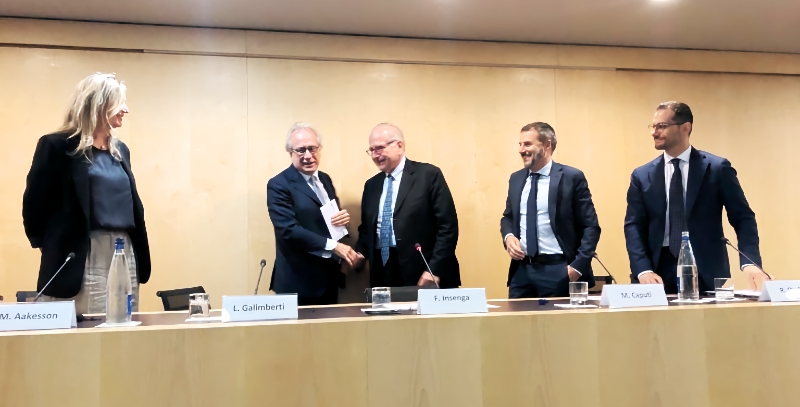 10/05/23
An Agreement Between ADI And Associazione Marchi Storici D'Italia
"Design culture is a fundamental strategic lever for sustainable and responsible development of the planet and human living conditions. Manufacturing and design are the virtuous pair that has been able to generate the Made in Italy phenomenon." This is the principle from which the Memorandum of Understanding, signed on 2 May 2023 at the Rome headquarters of the Adnkronos Group by ADI and Associazione Marchi Storici d'Italia, which since 2021 has represented companies that own trademarks registered in the special Register of Historical Trademarks of National Interest of the Ministry of Business and Made in Italy.
"Italian Historic Brands have always played a relevant role in the industrial design system promoted by ADI, having contributed to spreading its value and quality since its early development. The collaboration we are launching today with the signing of this memorandum of understanding is the strategic way forward for the joint enhancement of historic business realities and Italian design."
– Massimo Caputi, president of the Historic Brands of Italy Association.
The memorandum of understanding, which is valid for two years, was supervised for ADI in its preparation by Gianfranco Tonti, coordinator of the Association's Business Department. It was signed, with Massimo Caputi, by Rocco Orefice, director of the Association of Historical Marks of ìItaly, while for ADI the president of ADI Lazio Marika Aakesson, Luciano Galimberti, signed the protocol. "This memorandum of understanding," he commented, "contributes to mutual understanding and the enrichment of the culture shared by designers and manufacturers. A collaboration that, in fostering the comparison and exchange of knowledge, is the right way to effectively promote Made in Italy."
The collaboration agreement sees in the first place the promotion of the strategic value of design in all areas of production, through initiatives that a joint table will develop in ten directions:
Design for living
Design for mobility
Design for work
Design for the person
Food Design
Design of materials and technological systems
Design for services
Design for the social
Research for the enterprise
Design for communication
These activities will be complemented by internationalization, with new strategies to promote members' ideas and interests in all parts of the world, and information, which will give visibility to the initiatives of the two associations on each other's channels.
More Information: adi-design.org/blog/design-una[…]-l-impresa.html
marchistorici.com/2023/04/27/cultura-del-design-e-dei-marchi-storici-per-il-made-in-italy/