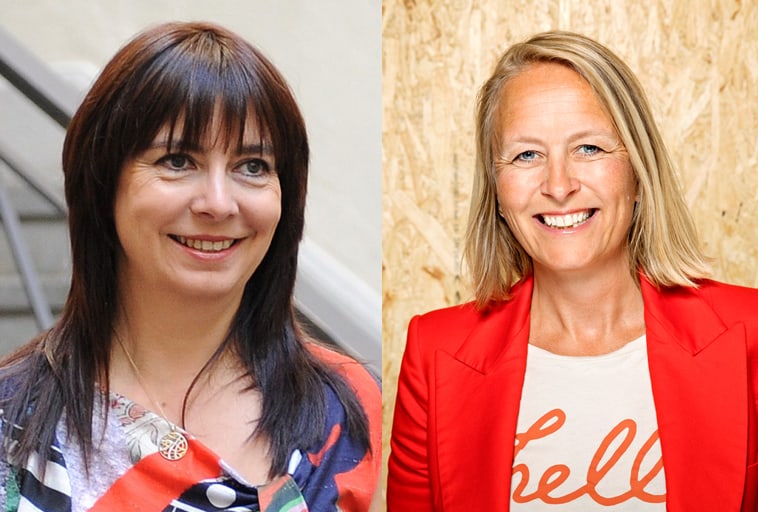 28/05/21
BEDA elects new President & Vice President
A strong leadership team
At its annual General Assembly held online on Friday 28 May 2021, BEDA welcomed its new President Isabelle Vérilhac (left), Head of international Affairs and Innovation at Cité du design, Saint Etienne and unanimously elected its new Vice President Christina Melander (right) of the Danish Design Centre.
Speaking to the General Assembly, Isabelle thanked the outgoing President Päivi Tahkokallio of Ornamo Art and Design, Finland for her defining term as President.
Legacy
During Päivi's tenure, BEDA has grown in both influence and numbers with its appointment as the first Partner of the New European Bauhaus initiative, and invitations to sit on a variety of EU Commission committees, including the Working group on the Cultural and Creative Industries. Päivi instigated the highly successful BEDA Open Doors Dialogues which were introduced in early 2020 as a response to the pandemic. This initiative has now evolved into an important ongoing and collaborative platform for BEDA members to exchange views on the future focus of BEDA within the context of design for a successful Europe.
With a strong legacy in view, Päivi said,
"The New European Bauhaus is a unique initiative launched by the European Commission, providing unseen opportunities for design to participate in creating a Europe we Europeans want to live in. With opportunity comes the responsibility. It is up to the design community in Europe to show that we are up to the task. As the voice of design, BEDA has been happy to take part in the work since the early days, and with the next President and Vice President the work will continue. And the New European Bauhaus will not be the only context. BEDA will work on many arenas to do its share in the success of Europe through adding value to other industries ."New BEDA President 2021-2023
Looking to her two-year term as BEDA President, Isabelle spoke to the GA of her ambition to work closely with the European Commission, engaging all BEDA members and partners as a collaborative global community.
Recognising that the voice of design in Europe will be further reinforced through combining a strategic approach at the global level and a more operational approach at the local level, Isabelle reminded the GA that only then will we successfully be able to contribute to tackling the large-scale and urgent challenges faced by society. Moreover, by joining the forces of all the designers and the players in the field of design, BEDA's influence and work could have a real impact on daily life. Isabelle stated, "We are living in an exciting time where more than ever, design is required to rise to the challenges of climate change and human wellbeing."New Vice President

Christina was warmly welcomed by the General Assembly to her new position. A member of the BEDA Board both previously and during this current term, Christina said,
"I am very grateful that the members have elected me as Vice President for the next two years. I believe it is fair to say that design has never been higher up on the agenda in many countries and regions across the world – and in particular in Europe. I see BEDA as an essential body to support mobilising as a positive movement for design by continuously strengthening the European design ecosystem. I therefore look forward to supporting the new President in moving BEDA forward and to collaborating with members, partners and the Commission."
Welcoming the election of Christina as Vice President, Christian Bason, CEO of the Danish Design Centre, said, "More than ever, design — including skills, competencies, capacities and mindsets — is a key factor for a sustainable Europe. DDC is very pleased to support Christina Melander's Vice Presidency as a strong signal of our future support for BEDA's work."Looking forward – the evolving policy landscape
Building on BEDA's recent successes and the momentum being created by the European Commission, in particular through its New European Bauhaus initiative, Isabelle stated that, "Developing design policy at the European level, but also at national and regional scales, will serve the activities of the designers and partners working in design fields seeking to build a successful Europe".

She went on to say, "Over the next two years, I hope to develop multidisciplinary collaborations at different scales, in order to fulfil the promises proposed in the BEDA Policy Plan. This means that climate change, digitalisation and European values will remain key drivers for BEDA's work in Europe. These key terms fit well with the strategic ambitions of the European Commission."
---

BEDA President

Isabelle Vérilhac, BEDA President 2021-2023
Isabelle Vérilhac is Head of International Affairs and Innovation at Cité du design, Saint-Etienne, France. Since 2019 she has also been the International Manager and Coordinator of Saint-Etienne UNESCO City of Design. Isabelle holds a Postgraduate-Diploma in Design & Research and a Doctorate in material chemical physics and lectures on industrial design. From 2003 to 2007 she was the Director of the Saint-Etienne Medical Technologies Cluster and has worked in design in the context of its medical research & development activities.
For the past twelve years, Isabelle has been in charge of relations with the economic stakeholders of the Cité du Design Saint-Etienne. In this role, she created and set up the Materials Resource Centre, the Innovative Uses and Practices Labs (LUPI®) and the Design Creative City Living Lab of the Cité du design and coordinated the European Project IDeALL, (Integrating Design for All in Living Labs).
Isabelle has been with BEDA as Board Member, Treasurer and Vice President.
isabelle@beda.org
---
BEDA Vice President

Christina Melander, BEDA Vice President 2021-2023
Christina has worked in the intersection of strategic design, business development, and innovation for more than 20 years and has developed programs and projects in the design field as well as across industries, advised at policy level, and implemented strategy and policy.
Christina holds an MSc in Design and Communication Management from the Copenhagen Business School specialising in design processes in small and medium-sized companies – and she has followed that interest ever since.
During the last two decades, Christina has built up a vast network, both nationally and internationally, including positive and strong relationships in the Danish design industry, in which she works hard to explore new opportunities and adds value in the field.
Amongst others, she is the creator of the Design Ladder, the DIN-model, a guide for design driven innovation and several studies on measuring the value of design and mapping the design industry.
Christina has served as a Board Member of BEDA twice, most recently since last year.