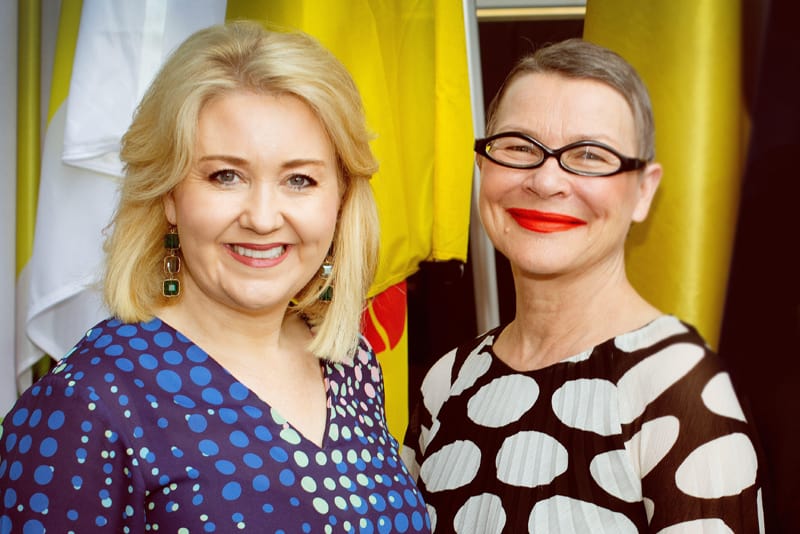 19/06/19
BEDA elects new President & Vice President
At its annual General Assembly held in Brussels on Friday 17th March, BEDA welcomed the new President Päivi Tahkokallio (right) of Ornamo Art and Design Finland and unanimously elected its new Vice President Karen Hennessy (left) of the Design and Crafts Council Ireland.
Speaking to the General Assembly, Päivi thanked the outgoing President Bart Ahsmann for his excellent term driving forward BEDA's key agendas in policy and overseeing a period of continued improvement and raising of the organisation's reputation. Päivi spoke of the honour of being in a position to begin her Presidency not only during BEDA's 50th Anniversary, but also having had the chance to meet at the BEDA Insight Forum the day before, with one of its founding fathers, Professor Herbert Lindinger from Germany.
Looking to her two-year term as BEDA President, Päivi spoke of the urgent necessity for design to illuminate better and new ways to serve in the race against the complex challenges of our time. Whilst highlighting climate change, digitalisation and artificial intelligence, Päivi also emphasised the critical role of European values. These must be held high if they are to guide us through the turbulent transformations ahead. Design as a carrier of values is more important than ever before and BEDA must continue to play its part.
Vice President, Karen Hennessy, was warmly welcomed by the General Assembly to her new position and in her remarks, she thanked the General Assembly for its confidence in her and committed to supporting BEDA on its ongoing journey during a time of great change.
… … … … … … … … … … …BEDA President
Päivi Tahkokallio is Founder and CEO of Tahkokallio Design+, a design thinking and strategic design agency from Lapland, Finland. With her track record on strategic and social design, Päivi, tirelessly promotes a design approach to support sustainable development of the Arctic. In addition to the Presidency of BEDA, Päivi is also Vice President of Ornamo Art and Design Finland. paivi@tahkokallio.fi… … … … … … … … … … …BEDA Vice President
Karen Hennessy is a chartered Accountant, a chartered Director and CEO of the Design and Crafts Council of Ireland (DCCoI), Ireland's national agency for the commercial development of designers and markers and a key deliverer within the Government's Future Jobs Programmes. Having delivered the Irish Design 2015 programme, DCCoI has been instrumental in the establishment of Ireland's first Ministerial-led National Design Forum and the inclusion of a National Design Centre into Ireland's National Development Plan 2018-2027. karen@dccoi.ie