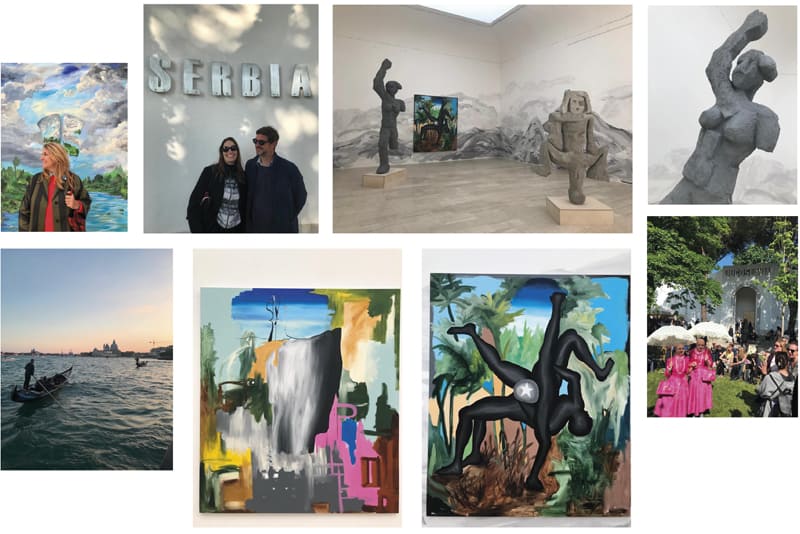 14/06/19
Belgrade Design Week
Djordje Ozbolt's project "Regaining Memory Loss" has won this year's fierce competition to represent Serbia at the 58th International Art Biennale in Venice, from May 11th to November 24th 2019.
Belgrade Design Week has submitted this exhibition and won the nation-wide competition by The Serbian Ministry of Culture, in collaboration with the Author himself. The Curator of the selected project is Nicoletta Lambertucci from London, UK, while the Commissioner in front of the Ministry is Serbia's representative at the last Art Venice Biennale, Vladislav Scepanovic, Professor at the Faculty of Applied Arts in Belgrade.
Djordje Ozbolt's selection of works, envisaged for the Pavilion of the Republic of Serbia, consists of a mural/wall painting, that depicts an abstracted landscape, a metaphor of a landscape from the artist's youth. It's a platform on which paintings are hung on, that works as fragments of memories, frozen on canvas, like portals that try to open the world of memories through personal artistic vision. The artist's 2 meter high sculptures are standing against the opposite wall, facing the paintings and the mural. It's a dialogue between painting and sculpture, inspired by memories of the same epoch, of the same cultural-economic sensibility.
"Memories change, mutate, are idealised, are bent under the influence of time, in the face of socio-economic changes, fading, they are forgotten. Sometimes they are totally false. What remains are selective fragments that are again, as such, unreliable. The work in its entirety talks about the past from the perspective (point of view) of the present, and, by definition, cannot be truthful. It is interpretation of something that was. Because of that it is false as a memory, but truthful as a work of art. As the passing of time does its work, as the memories fade, monuments disappear, they change, are forgotten, and my work tries to recall these memories of these monuments, that architectural-cultural heritage of a certain epoch, to interpret them through paintings and sculptures. All that through an imaginary ambient, where fragments of memories are mixed with imagination to create a personal interpretation of memory, collective, conscious, subconscious", said Ozbolt.
The 58th International Art Biennale is titled "May You Live In Interesting Times". The Exhibition is curated by Ralph Rugoff, currently the director of the Hayward Gallery in London.
For further information visit:www.belgradedesignweek.com