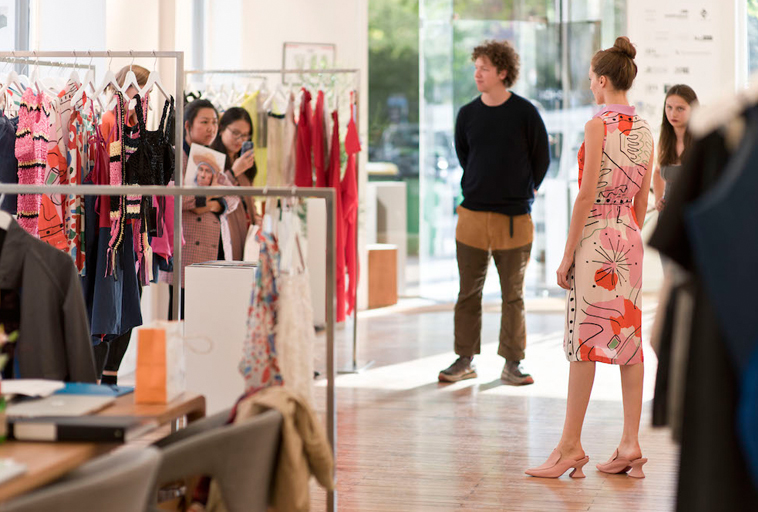 21/02/19
Berlin Showroom Fashion Week Paris
Since 2013 Berlin Showroom bi-annually presents the best of Berlin fashion to international buyers and press providing a unique opportunity for groundbreaking and cutting-edge designers to promote themselves internationally.
In March ten selected Berlin based fashion labels will present their new Fall/Winter 2019/20 collections during Fashion Week Paris. The Jury decided for Damur, Fomme, Hien Le, Hui-Hui, Namilia, Nobi Talai, Schepperheyn, Starstyling, Tata Christiane and Vladimir Karaleev.
Berlin Showroom will deepen the successful DACH cooperation jointly initiated with AFA (Austria) and Mode Suisse (Switzerland) in Autumn 2017. 26 up-and-coming as well as established designers of the german-speaking region will unite and showcase their latest collections at DACH Showroom from 1st to 5th of March in the heart of Paris, Marais.
Berlin Showroom was initiated by Projekt Zukunft / Berlin's Senate Department for Economics, Energy and Public Enterprises. It is largely financed by the programme Opening up New Markets in 'Programm für Internationalisierung / Foreign Trade Programme' and the EFRE fund. The joint presentation is realised by IDZ Designpartner Berlin GmbH in cooperation with Arne Eberle press+sales and the regional initiative Projekt Zukunft.
Further information here:berlinshowroom.com