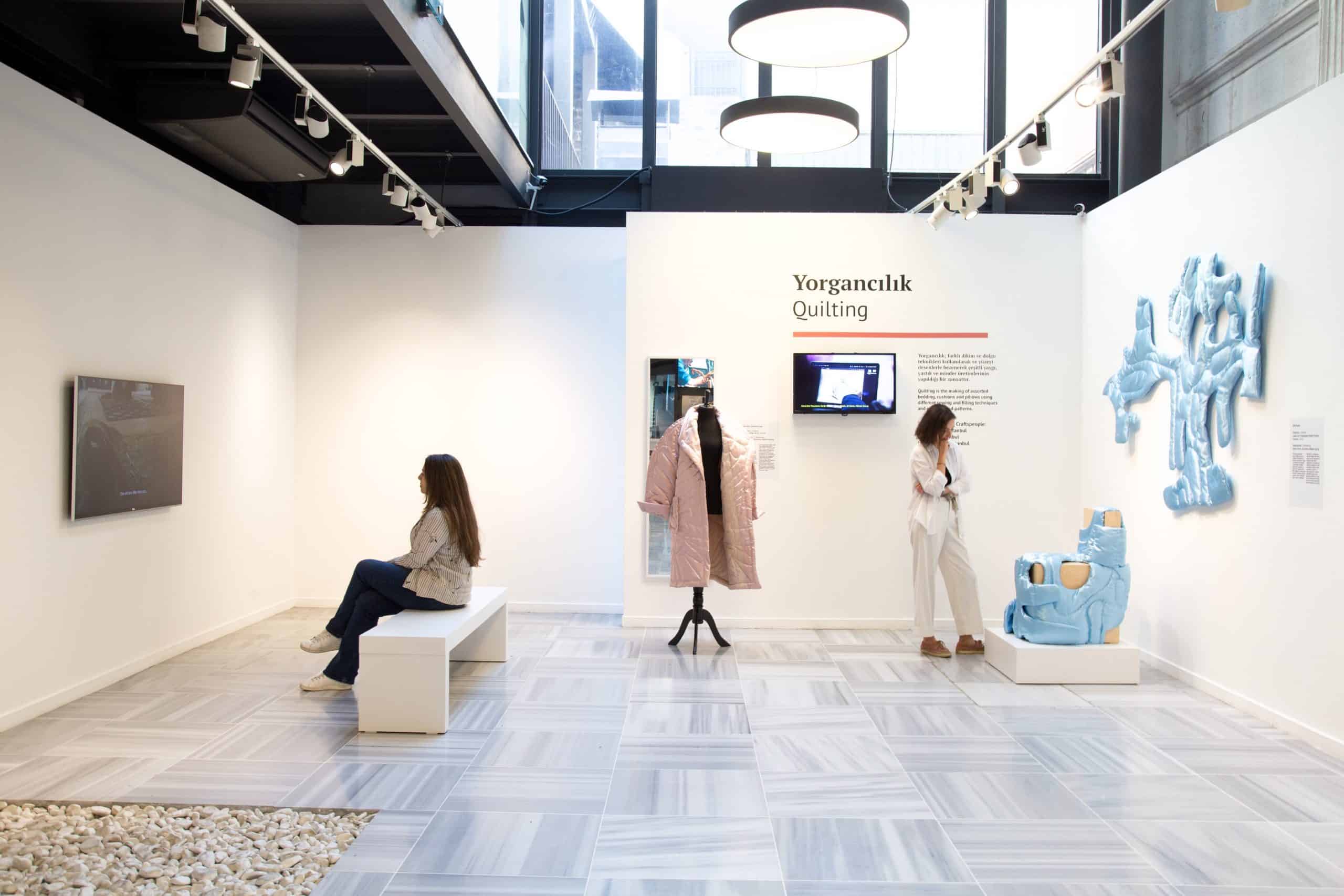 04/07/22
"BEYOND CRAFTS" CO-PRODUCTION EXHIBITION WAS HELD IN ISTANBUL, TURKEY
"From Ancient Anatolian Crafts to Contemporary Designs" project was carried out by the Turkey Design Council with the project partners Brumen Foundation (Slovenia) and Traditional Arts Association (Turkey) with the financial support of the European Union between April 2021 and June 2022. Within this 15-month project, the aim was to carry the Anatolian crafts at risk of disappearance into the future by means of intercultural cooperation.
The Ancient Anatolian Crafts Documentary Series, shot with the valuable masters of 5 crafts determined within the scope of the project, was published in Europe and reached designers and artists. A total of 124 applications were received from 20 European countries for the open call, which was held with the support of project partners and leading European design institutions. The authors of the 10 design proposals, determined as a result of the jury's evaluation, who re-interpreted the five traditional Anatolian crafts selected as Iznik Style Ceramics, Felt Making, Quilting, Stone Carving, and Mother-of-pearl Inlaying, came to Turkey and implemented their design proposals by working together with the craftspeople in their atelier.
For Iznik style ceramics, designers Alice Guidi from Italy and Lola Buades Balle from Sweden; for felt making, designers Cyrielle Colaye from France and Carla Coachim & Jordan Morineau from the Netherlands; for quilting, designers Kelly Konings from Sweden and Anna Liva Traumane & Harijs Vucens from Latvia; for stone carving, designers Pia Matthes from Germany and Aleksandra Kowalczyk from Ireland; for inlaying, designers Shikhar Bhardwaj from France and Carla Pisano from Italy were invited to Turkey.
The
exhibition "Beyond Crafts" featured 10 different design proposals that came to life through the co-production of European designers and Anatolian craftspeople. Contemporary designs, in which 5 crafts are re-interpreted, met with visitors
in Istanbul between 28 May – 28 June, 2022.
The co-production processes, which lasted for 3 days, were videotaped and a documentary showing the entire project process was prepared. You can watch all the movies related to the project on the
Youtube channel of the Turkey Design Council.
We are looking forward to future collaborations with European design institutions to feature the exhibition in Europe and share these exciting works with larger audiences. Please contact us if you are interested in being a partner at
info@turkiyetasarimvakfi.org
Follow the upcoming process of the project in Instagram
HERE.