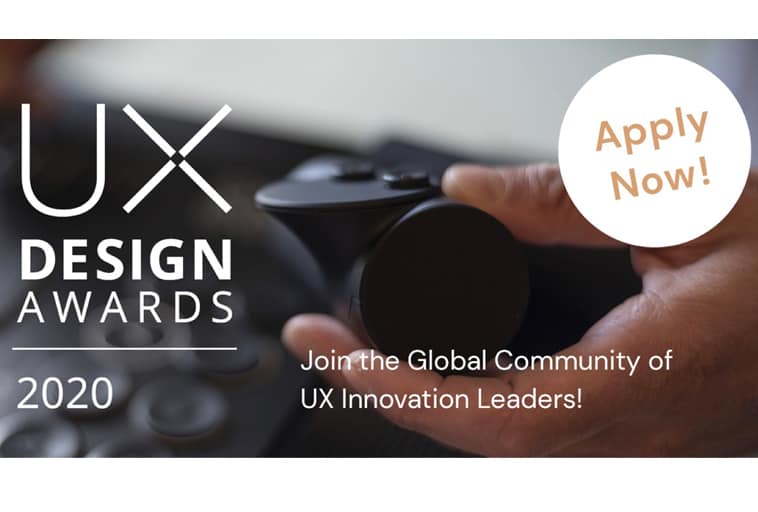 29/01/20
Call for Entries: UX Design Awards 2020
From now until 15 April, companies, agencies, UX professionals and young designers worldwide can submit their experience solutions for the global competition for user experience. Two newly introduced award categories – "New Talent" and "Vision" – complement the competition for the best user-centric projects this year.
Berlin, 16.01.2020 – The UX Design Awards is a global competition with a specific focus on user experience. Companies, agencies, research institutions, young designers and other UX professionals are eligible to participate.
With "New Talent" and "Vision" two new award categories have been added this year: The "New Talent" award is open to bachelor and master UX-projects. The category "Vision" was introduced to honor outstanding projects with a development horizon of more than ten years.
"With the UX Design Awards we honor innovative design and positive UX. We give visibility to outstanding solutions from all over the world," explains Ake Rudolf, strategic director of the International Design Center Berlin, the organizer of the competition. "We want to help give UX Design the recognition it deserves".
The submission deadline for #UXDA20 is 15 April. Among the submissions, a high-ranking jury will nominate the outstanding solutions for the competition for the UX Design Awards. From the nominated projects, the jury then selects the winners in the categories "Product", "Concept", "Vision" and "New Talent". From all categories, the jury can select a "Gold" winner who is considered the "Best of the Best" in the competition. In addition, users worldwide decide on the winner of the Public Choice Award in an online vote.
All nominated submissions will be presented in a special exhibition at the global technology fair IFA in Berlin from September 4 to 9, 2020. The winners will be honored at a festive award ceremony.
Further information on the UX Design AwardsWebsite and registration:www.ux-design-awards.comDownload participation details:www.ux-design-awards.com/registration/downloads
---

Organiser
The UX Design Awards are organized by IDZ Design partner Berlin GmbH on behalf of the International Design Center Berlin e. V. (IDZ). For more than 50 years, IDZ has been a leading independent institution for the promotion of design as a motor for innovation in business and society.
IDZ offers companies access to consulting and expertise in the field of design, promotes the exchange of knowledge, and realizes projects and events. The institution works in active exchange with representatives from politics, culture and science