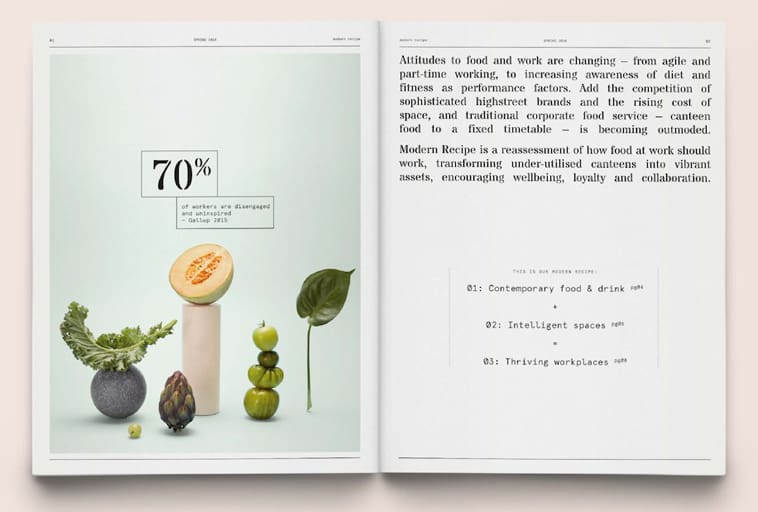 12/07/21
DBA Design Effectiveness Awards 2021 winners announced
The second virtual DBA Design Effectiveness Awards' winners announcement was held live online on Tuesday 15 June.
Spanning work for global brands and high street banks to family businesses, sports clubs, start-ups and charities, 28 agency and client partnerships discovered if they'd won Gold, Silver or Bronze awards. While all of the winning projects prove the powerful impact of design on business success, the judges found ten particularly outstanding, awarding them coveted Gold awards.
The prestigious Grand Prix was won by Sodexo & Without for contract catering brand Modern Recipe.
The creation of the new brand for Sodexo's corporate food offer covered every aspect from proposition and identity, to customer experience, interiors, packaging, menu cycles and marketing comms. Modern Recipe has transformed corporate canteens across nine countries into thriving spaces to eat, meet, work and relax following its 2017 launch, increasing dining rates 45% and revenue 60% at one site alone, and pushing the whole business forwards.
Established in 1989, the DBA Design Effectiveness Awards recognise and celebrate the compelling influence of design on the success of a project or business. Crucially, the awards are evidence-based, the impact of design measured and verified.
The Awards are entered jointly by client and designer and winning projects have been rigorously judged by business leaders from organisations such as Electrolux, FT, Harley Davidson, Puma and Virgin Atlantic in three rounds of judging. The Grand Prix award was selected by a special judging panel which included Diageo's CEO Ivan Menezes.
Says DBA Chief Executive, Deborah Dawton: "From digital platforms to consumer products, transformative branding to customer service, the depth of impact and scale of reward achieved by the DBA Design Effectiveness Award winners demonstrate the relevance of design to every aspect of business. In the current context there are more opportunities than ever for business and government to capitalise upon design's capabilities to drive change, and this year's winners resoundingly prove who dares, wins."
Find out more about the 2021 DBA Design Effectiveness Award winners here: https://www.dba.org.uk/design-effectiveness-winners-2021/
You can also watch a selection of short films created by the winners exploring the impact of their designs here: https://www.dba.org.uk/dba-design-effectiveness-award-winners-videos/
The call for entries for the 2022 DBA Design Effectiveness Awards is now underway with an entry deadline of Friday 5 November 2021. You can download an entry pack and find all the details to enter here: https://effectivedesign.org.uk/be-a-winner