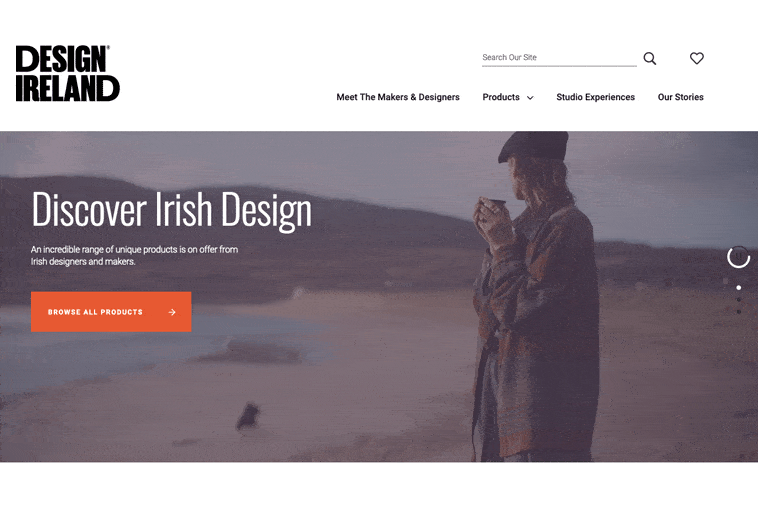 17/11/20
DCCI unveils enhanced DesignIreland.ie
Design & Crafts Council Ireland (DCCI) has relaunched DesignIreland.ie.
Following redevelopment and improvements to user experience and the technical ability of the site, DesignIreland.ie represents the breadth and quality of Irish design and craft to both a global and an Irish audience, through a best-in-class digital experience.
With newly commissioned video, photography and copy, the site now showcases:
• 139 Irish designers
• 1,267 products
• 34 studio experiences
The relaunch of DesignIreland.ie is the outcome of redevelopment work undertaken during 2020 following a thorough audit of the site. This included:
• User experience planning and innovation
• Design thinking process
• Specifics of UX Design Approach
• Custom design, planning and delivery
DesignIreland.ie was initially developed by DCCI in 2016 as a vehicle to attract and engage consumers and to direct them to sites where they could purchase craft online. This dual role of raising the profile of Irish craft and selected craft brands, along with the objective of ensuring these consumers can easily convert their interest into sales, is a key component of the site.
DesignIreland.ie is a useful and convenient tool to enable those abroad with an interest in Ireland to seek and discover the very best of what the country has to offer. For Irish abroad, the site offers an easy-to-use, by-county, searchable database to enable the Irish abroad to source unique products made in their home county and also to explore opportunities for visiting maker workshops.