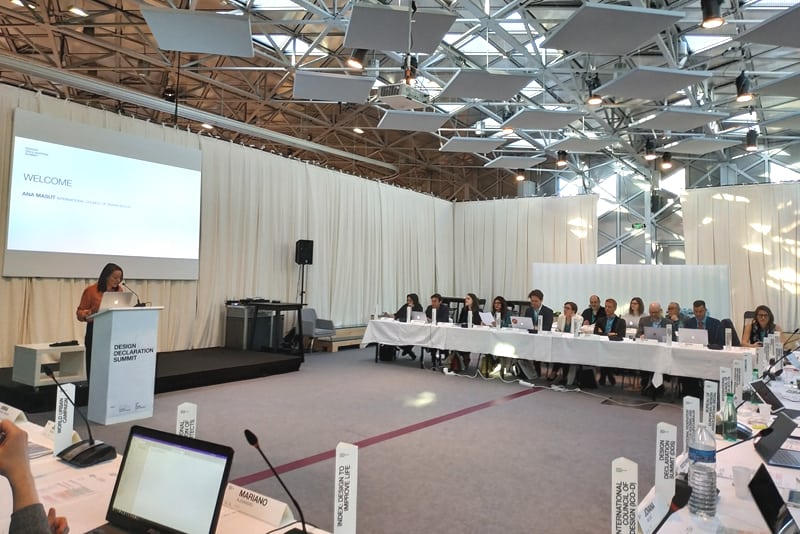 16/04/19
Design Declaration Pre Summit Meeting in Biennale Internationale Design Saint-Etienne 2019
From 3rd to 5th April 2019, the Cité du design Saint-Etienne hosted the Pre-Summit Meeting of the Design Declaration at Biennale Internationale Design Saint-Etienne.
After the signature of the Design Declaration in Montreal in 2017, this working meeting in Saint-Etienne was a milestone on a path leading to future full-scale Design Summit Meetings in 2020/21 and 2023/24.
It gathered the steering committee, composed of representatives from 6 international design organisations — Bureau of European Design Associations (BEDA), International Association of Universities and Colleges in Art, Design and Media (Cumulus), International Council of Design (ico-D), Interaction Design Association (IxDA), International Federation for Housing and Planning (IFHP) and International Federation of Landscape Architects (IFLA) and 42 delegates from signatory organisations, observers and experts.
During the 2 days, they focused on key projects proposed in the Montréal Design Declaration. Mixing experts perspectives, group sessions, and collective reflections, they worked on the methodologies, timelines and resources requirement to activate 3 priorities :
Establishing metrics and collecting data and case studies to more effectively communicate the value of design;
Supporting development of National and Regional Design Policies;
Fostering development, recognition, support and funding for design education and research, including development of new formats for design education curricula.
With high-quality contribution, this 2 days session has given further content for the activation of the projects included in the Design Declaration.
It was also the opportunity for the delegate to get inspired by the Biennale Internationale Design Saint-Etienne and to network with the participants of its Design & Innovation Forum taking place during the same days.
A very successful step towards the commitments of the international design community.
Read the declaration:www.designdeclaration.org/Biennale Internationale Design Saint-Etienne:biennale-design.com/saint-etienne/2019/en/home/