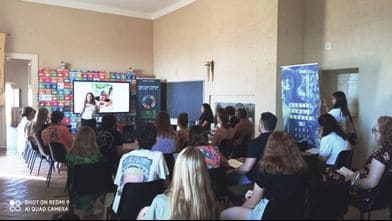 08/11/22
Design for sustainability: focus on food
ADI – at a boot camp organized last October in Pollica (near Salerno) in collaboration with FAO (the UN Food and Agriculture Organization) – signed an agreement with the Municipality of Pollica and the Future Food Institute. The agreement calls for collaboration to develop circular models of production and consumption in which design skills and resources are used to improve the sustainability of territories, economies, populations, cultures and crops.
Pollica represents a benchmark in this area, thanks to boot camps and workshops with young people of all nationalities, the development of integrated plans with local farmers and fishermen, the construction of community projects targeting crops and communities, the regeneration of urban spaces, and the activation of workshops with large IT companies.
Future Food Institute, which has offices in Bologna, Pollica, Tokyo and San Francisco, is dedicated to improving life on the planet through education and innovation in global food systems. It considers food to be "a universal language that touches every aspect of human life. But the way we produce, process, distribute, market and consume food is no longer sustainable, for human and planetary health. We need new models, mindsets and approaches to address our triple crisis of climate change, extreme poverty and food-related health problems."
ADI for its part has pledged to launch stimuli for reflection on the topic. The first initiative will be a talk animated by the presence of all sectors interested in the issue of sustainability in the territories, from design to institutions, from agribusinesses to publishing and finance. It will be held on November 22 at the ADI Design Museum in Milan.
More information:
www.adi-design.org/
Image: © 2022 Carlo Branzaglia, courtesy Future Food Institute