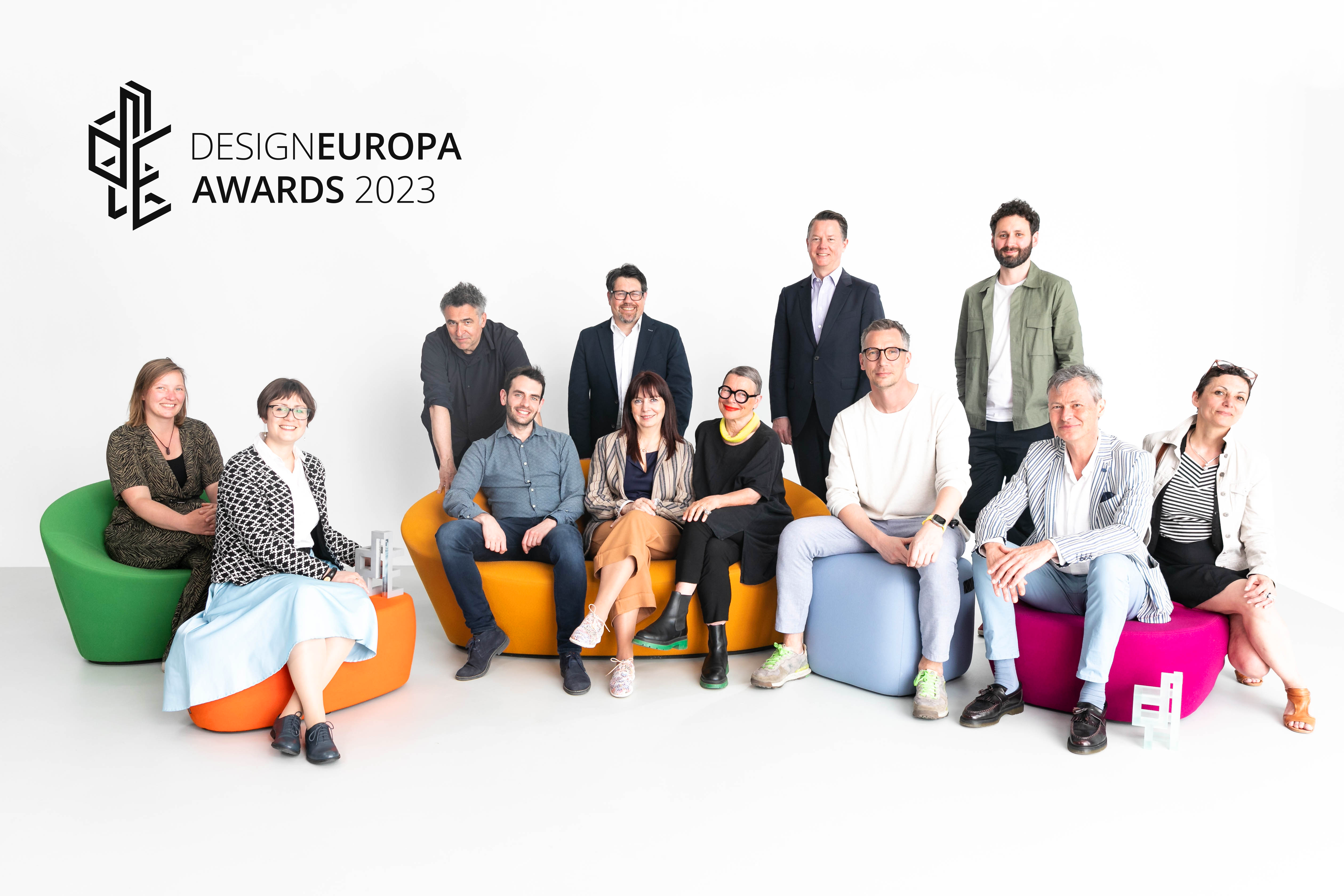 Image: DesignEuropa Awards | DesignEuropa Awards 2023 Jury Members
19/07/23
DesignEuropa Awards 2023 to Recognise Maria Benktzon and 8 Finalists Announced
Lifetime Achievement Award winner is Swedish designer Maria Benktzon, renowned for her innovative and inclusive designs of everyday objects and featured at the prestigious MoMA, the National Museum of Sweden and the Smithsonian.
Eight finalist designs shortlisted from Austria, Croatia, Estonia, Hungary, Italy, Poland and Slovenia.
The winners will be announced in Berlin on 5 September.
The DesignEuropa Awards finalists are revealed on 26 June 2023, along with the winner of the Lifetime Achievement Award. Organised by the European Union Intellectual Property Office (EUIPO), the DesignEuropa Awards recognise and honour great products and designers in the field of industrial design.
From the iconic coffee pot used by flight attendants of SAS Airlines to the ubiquitous Tupperware knives, Lifetime Achievement Award winner Maria Benkzton has been a key figure of user-centred design. She has developed an inclusive approach to design by creating elements that allow people with limited hand strength or movement to remain independent. The jury was impressed by the social impact of her designs and the role which ergonomics has played.
The products represent a wide range of sectors, such as coffee, home appliances, office furniture, retail logistics, household cooking, mobility and sports. All products prioritise sustainability and social impact, and are responsible for setting new standards in the design industry.
The winners will be announced at the awards ceremony, which will take place in Berlin, on Tuesday 5 September, and will be live-streamed. During the ceremony, the Lifetime Achievement Award will also be presented to Maria Benktzon.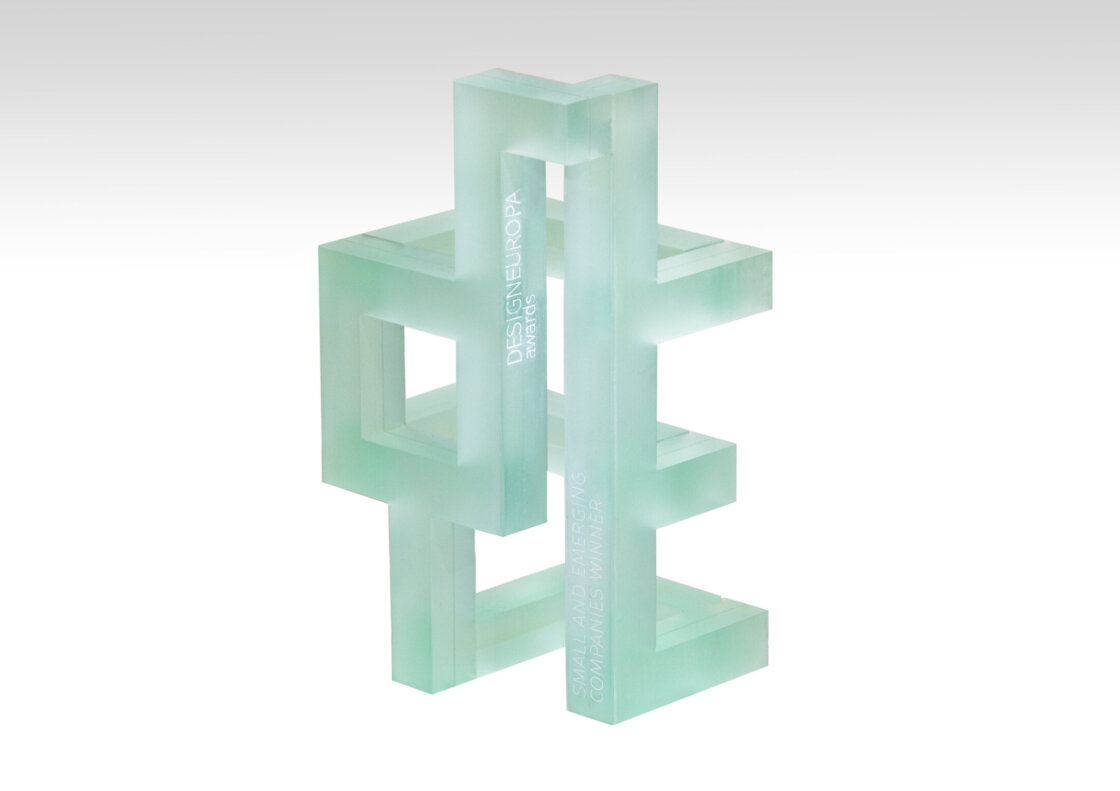 Image: DesignEuropa Awards | DesignEuropa Awards 2023 – Small an Emerging Companies Award Trophy
The Executive Director of the EUIPO, Christian Archambeau, said:

"The DesignEuropa Awards highlight the effective use of design and how its protection can help drive economic, social, cultural and environmental development. Furthermore, we have the opportunity to acknowledge eight impressive finalists from the Industry and Small and Emerging Companies sector as well as the work of Maria Benktzon through the Lifetime Achievement Award. Maria's innovative, ergonomic and consumer-friendly designs of household objects have been essential in demonstrating that design for all and universal design creates improved environments that benefit everyone."
The DesignEuropa Awards Jury was composed of design professionals, academics, entrepreneurs, former winners and intellectual property experts, who draw on their experience and expertise in their given area to judge the proposals. The Jury was led by Isabelle Vérilhac, president of BEDA and Director of Innovation and International Affairs at the Saint-Étienne UNESCO City. BEDA Board member form Hungarian Design Council Anna Kohut-Janko and BEDA former President Paivi Tahkokallio also were part of the jury team.
The Finalists:
Jarsty (Italy): All-in-one microwavable cooking system. (Jarsty S.r.l.; Designer: Giuseppe Maurizio Scutellà)
Mindful Design Coffee Brewer (Austria): Pour over filter coffee set. (Mindful Design and Craft; Designer: Petra Wieser)
RemigoOne (Slovenia): Integrated electric outboard motor. (Remigo, d.o.o.; Designer: Ajda Bertok)
ZigZag Boulder (Hungary): Outdoor modular climbing wall system. (Hard Body Hang; Designer: H3Hungary Kft./ Erdélyi, Tamás)
Cleveron 402 (Estonia): Automated self-service pickup point for click- and-collect orders. (Cleveron AS; Designer: Lauri Hirvesaar)
Full Automatic Espresso Coffee Machine (Italy): Coffee machine which offers the possibility of grinding coffee beans and makes up to 7 different types of coffee. (Smeg Spa; Designers: Vittorio Bertazzoni, Matteo Bazzicalupo, Raffaella Mangiarotti)
The Performer (Croatia): Compact workspace for remote working. (Sobočan d.o.o; Designer: Jakov Fatovic/ Sobocan design studio)
WithME (Poland): Collaborative office chair offering advanced ergonomics with minimal adjustments. (Nowy Styl sp. z o.o; Designer: Martin Ballendat (Design Ballendat))
More Information – DesignEuropa Award Press Release: euipo.europa.eu[…]PR_DEA2023_FINALISTS_en.pdf
Last updated: 20/07/23