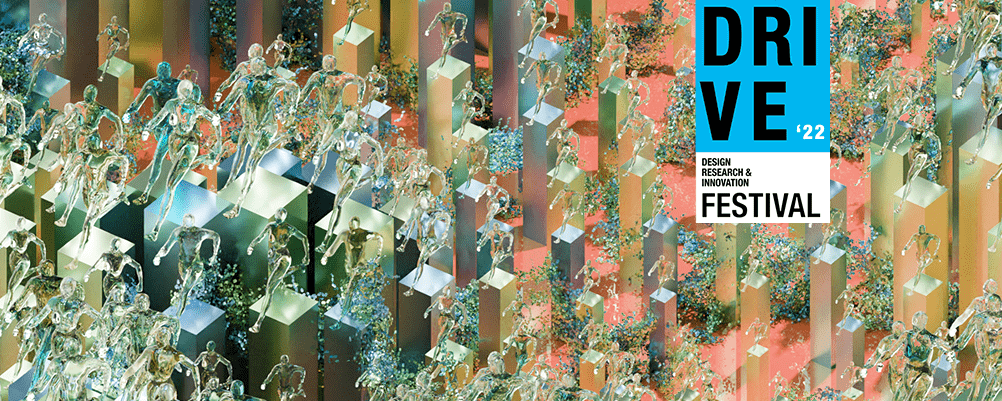 06/07/22
DISCOVER THE THEMES OF DRIVE 2022
The Design Research & Innovation Festival takes place at October 24 until October 28 at the Effenaar Eindhoven, during the Dutch Design Week. Since 2014, CLICKNL and Design United have been putting innovative projects at the interface of knowledge and innovation in the spotlight every year during DRIVE Festival. This year, DRIVE will focus on a couple of themes where we see great opportunities for the creative sector. Discover all themes below.
SOCIAL INNOVATIONS | DAY 1
24 October, 2022
To tackle societal challenges even better, we need new solutions that realize both economic value and societal impact. But how to develop and realize these multiple values? With creative methods, models and approaches. Researchers and designers can make the difference: working together with companies, governments and citizens to develop and test which interventions accelerate and scale innovations, and strengthen the social earning capacity.
PUBLIC SPACE DESIGN | DAY 2
25 October, 2022
From residential towers next to shopping centers with lifeless squares, to green arteries with playgrounds through the city; the environment has an effect on our well-being. Residents of urban areas need different types of facilities, but the competition for space in the city is fierce. We have to be smart about this: how do we design public space that contributes to a good quality of life?
CIRCULAR DESIGN | DAY 3
26 October, 2022
By designing smartly, we can use our raw materials longer and more efficiently. We are already designing new business models, products and systems that are circular and we must increasingly focus on the transformations of chains and systems. What do we already know about designing it, what have we already learned and what are the next steps?
IMMERSIVE CONTENT | DAY 4
27 October, 2022
Immersive experiences involve all of our senses through intense, partly digital, events.
To create these experiences, content and technology must come together. Designing immersive content is a challenge for the creative industry. What methods can we use and do we still need to develop? And what are the consequences that can take place?
EXPERIMENT | DAY 5
28 October, 2022
Everything that is groundbreaking, has been developed. This applies not just to physical products, but also to services and/or even business models and processes. Their development often has an experimental phase in which you test, adjust and test again. The experiment is the key to your success if you use it in the right place and way. But how do you determine what the right place or way is?
For more information, click HERE.