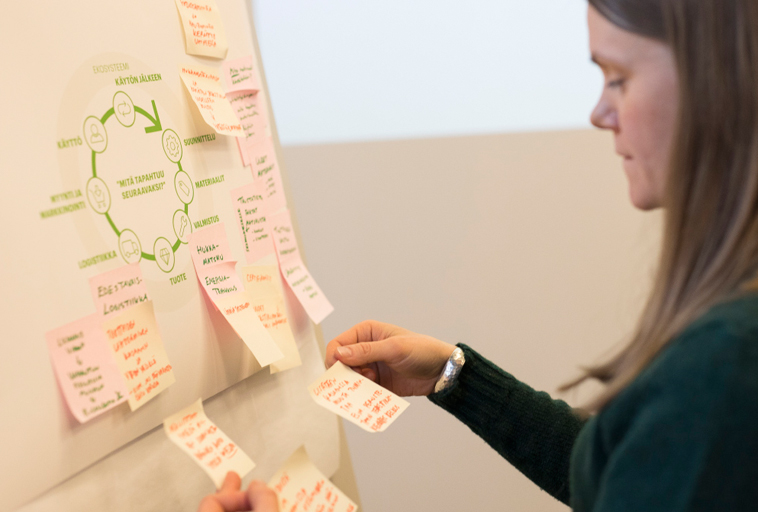 20/02/19
EcoDesign Sprint: How to create circular business?
Are you looking for new business opportunities? How do you respond to future customer needs? Do you want to learn wiser use of resources? Or contribute to building a more sustainable future?
EcoDesign Sprint is a unique tool for business development. It is a combination of innovation and practical training through circular economy thinking and design methods. EcoDesign Sprint has been developed by Design Forum Finland as part of the EcoDesign Circle, an EU-funded circular economy project.
The primary goal of EcoDesign Sprint is to develop the business of SMEs and create more sustainable products and services for them. Another goal is to provide the participants with in-depth knowledge on the possibilities and business models of the circular economy.
How it works?
EcoDesign Sprint is a joint project between a client company, design agency and circular economy expert. It consists of three phases or workshops named "Understand", "Ideate" and "Deliver".
The Understand phase creates shared understanding of the principles and business opportunities of the circular economy. It also maps the current status of the client company. The circular economy expert guides the Sprint team forward with lectures and co-creation methods.
At the Ideate phase, the design agency leads the team towards a common goal: two viable concepts for the client company. The circular economy expert ensures that ideas follow the company's needs and circular economy principles.
The last phase Deliver follows after a short interval. During the interval, the design agency develops the concepts further. The goal for the third phase is to identify the next steps the company should take after the Sprint for implementing concepts.
Benefits?
Your mindset towards the circular economy will change. You'll understand that circular solutions will create competitive advantage in the future. But it's not just about the mindset. As a company, you gain concrete deliverables: new product or service concepts, tools for circular business development, boost for the existing strategy and operations, concrete action points and tailored support and mentoring.
So far, EcoDesign Sprint has been piloted in six client companies and six design agencies in three of the partnering countries of EcoDesign Circle – Finland, Sweden and Estonia. The partner of Design Forum Finland in this project was Ethica Oy, a consultant specialised in the circular economy.
There's also a booklet introducing to EcoDesign Sprint, downloadable here:
http://www.designforum.fi/assets/files/PDF/Ecodesign/EcoDesign_Sprint_esite_.pdf