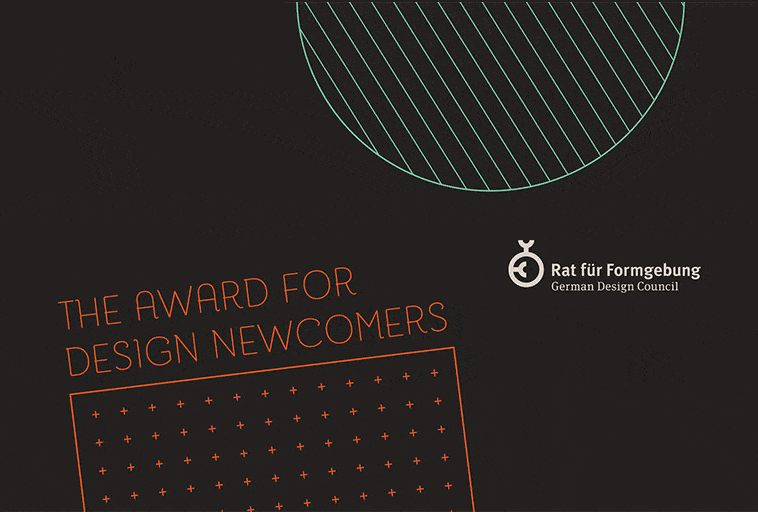 19/05/20
ein&zwanzig newcomer awards
Best of Best distinction presented for textile installation
The international ein&zwanzig competition is a staple of the German Design Council's support for young talent. Each year it recognises the 21 most impressive products from up-and-coming designers internationally. Juliette Berthonneau, a designer from France, received the highest distinction, "Best of Best".
The work of all 21 prizewinners is being exhibited in detail on the German Design Council's digital platforms, the website www.ein-und-zwanzig.com and on Instagram under #einundzwanzigcompetition. Image and video documentation provide extensive background information about the awardees. Additional content on the winners' focus topics will be progressively published on the ndion platform.
Light and floating 3D textiles
The "Best of Best" winner, chosen from among 1,035 entries, is Juliette Berthonneau from Paris with her product debut, "Bouncing Patterns". The textile installation impressed the jury with an intricate and poetic design statement coupled with high functionality in use. "Bouncing Patterns" are pleated 3D textiles known as spacer fabrics, featuring absorbent, cushioning and self-supporting properties. The multilayered, hollow structure of the fabric is light and rigid yet also flexible. "My goal from the outset was to question the traditional idea of a flat weave," says Juliette Berthonneau, a master's graduate from the Swedish School of Textiles. Her new fabric can be used as textile panels to form sculptures and, moreover, provide a solution for acoustic issues, thermal insulation or upholstery. The shapes that it takes vary freely, letting self-supporting, agile objects transform endlessly through pleating or pressure treatment.
You can find out more about the winner and her work in the digitally recorded interview at www.ein-und-zwanzig.com.
---
German Design Council
The German Design Council is one of the world's leading centres of expertise in communication and knowledge transfer within design, innovation and branding. More than 320 businesses are currently members of its Foundation. The German Design Council was founded in 1953 as an initiative of Germany's federal parliament to strengthen the German economy's competence in design. Its many and varied activities all have the one aim: communicating a lasting improvement of brand value through the strategic use of design.