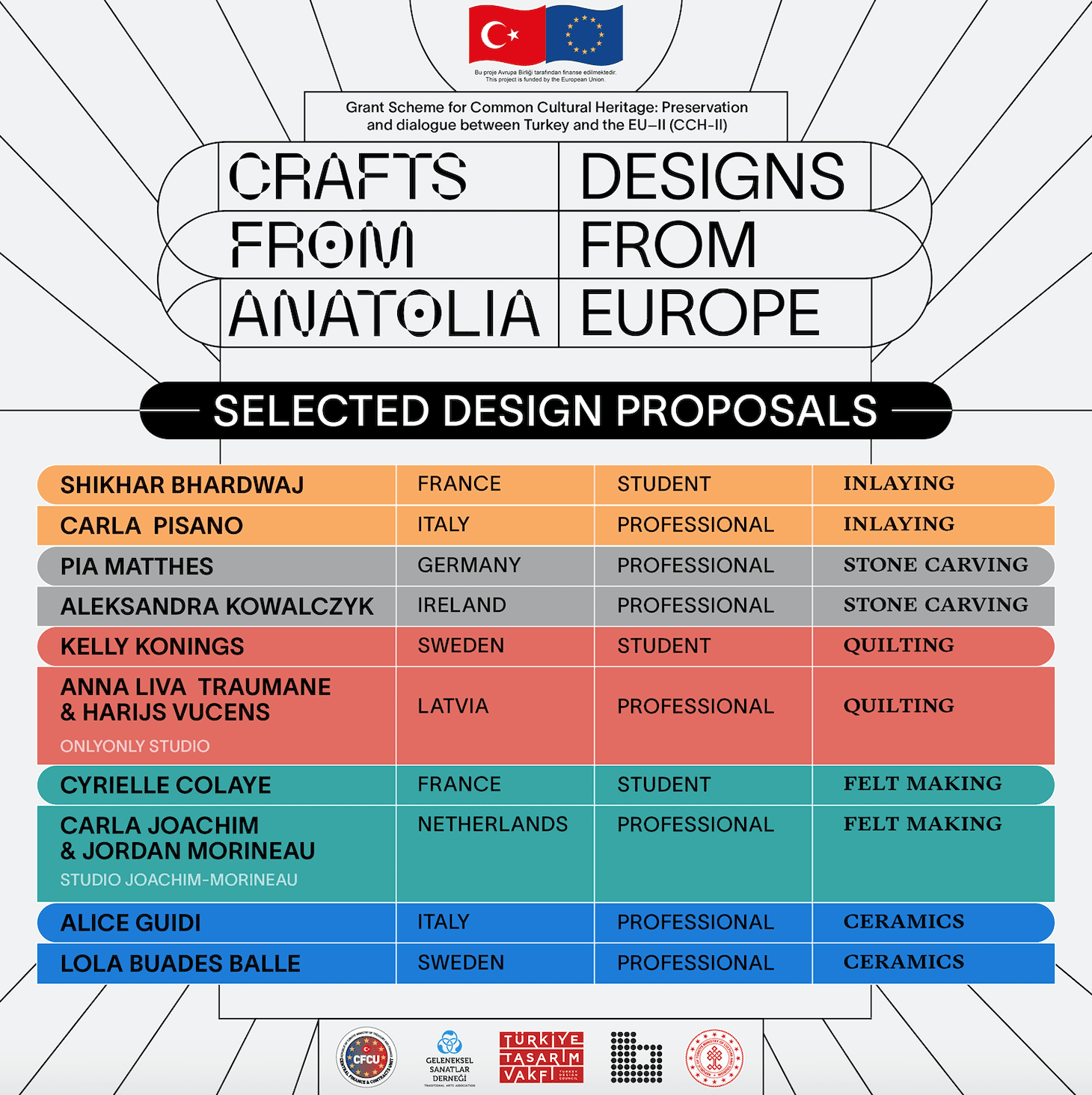 04/03/22
European Designers and Turkish Craftspeople started reinterpretation of Anatolian Crafts
124 applications from 20 European countries were submitted to the open call of the European Project "From Ancient Anatolian Crafts to Contemporary Designs", which was initiated by the Turkey Design Council in partnership with Brumen Foundation and Traditional Arts Association.
The project was launched to carry the Anatolian crafts at risk of disappearance into the future by means of the intercultural cooperation between Turkey and Europe. Five traditional Anatolian crafts were selected as ceramics (Iznik style), felt making, quilting, stone carving, and inlaying, and designers from Europe were asked to re-interpret these crafts with their contemporary design approaches.
Among the design proposals evaluated in the professional and student categories in terms of aesthetics, usability, feasibility, and originality, 10 of them were selected by the jury to be produced together with the craftspeople.
For Iznik style ceramics, designers Alice Guidi from Italy and Lola Buades Balle from Sweden; for felt making, designers Cyrielle Colaye from France and Carla Coachim & Jordan Morineau from the Netherlands; for quilting, designers Kelly Konings from Sweden and Anna Liva Traumane & Harijs Vucens from Latvia; for stone carving, designers Pia Matthes from Germany and Aleksandra Kowalczyk from Ireland; for inlaying, designers Shikhar Bhardwaj from France and Carla Pisano from Italy were invited to Turkey.
As of March, designers started to come to Turkey and design proposals have started to come to life with the joint production process in the workshop. After the productions are completed, they will be exhibited in Istanbul and the promotional processes will continue both in the EU and Turkey.
We are very happy for the interest shown in our project and thank all communication partners and designers who participated for their great contribution.
Follow the upcoming process about the project on Instagram HEREturkiyetasarimvakfi.org