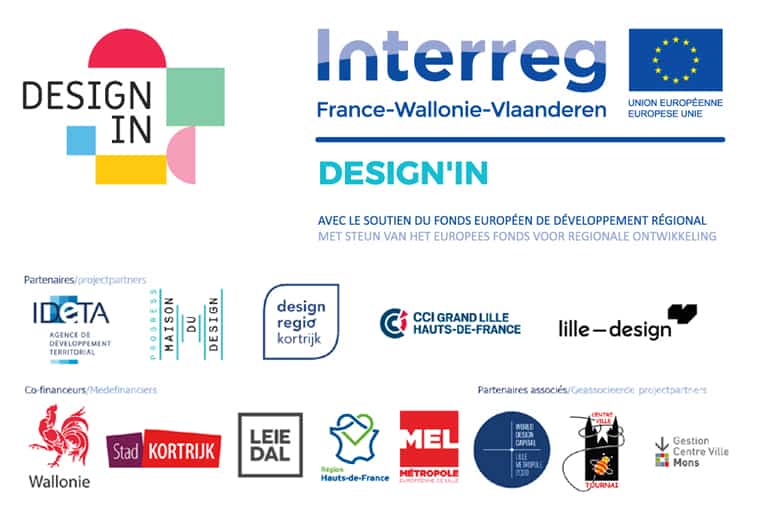 19/11/19
European Interreg programs and design
lille—design is the pilot of a european Interreg program called Tripod-II, gathering 12 partners from France, Wallonie and Vlaanderen. It aims to support the integration of design by small and medium-sized companies, through personnalised support or design training courses. It also aims to create a designer community across the borders, through the creation of a designer club.
Since January 2019, lille—design is also a partner of the european Interreg program, Design'in. This project is managed by IDETA and gathers also Maison du Design, Designregio Kortrijk and CCI Grand Lille.
This program aims to strengthen and to stimulate the development of shops in the city center thanks to design. Concrete actions will gather designers and the territories of Kortrijk, Lille Métropole, Mons and Tournai.
3 main actions will be led:Design'in shops: Thanks to an open-call, selected shops will work with professional designers in order to strengthen their attractiveness. A contest-path will be drawn to discover the designers work in those different shops
Design'in Town: it aims to improve the urban environment thanks to design. A cocreation process between the residents, tourists, entrepreneurs and designers will lead to the development of new concepts for the public space
Pop in store: Giving the opportunity to designers to fill in temporary sales spaces and to try the market of the other side of the border
For more information visit:www.lille-design.com/fr/www.tripod-design.euwww.ideta.be/projets/animation-economique-projet-designin/