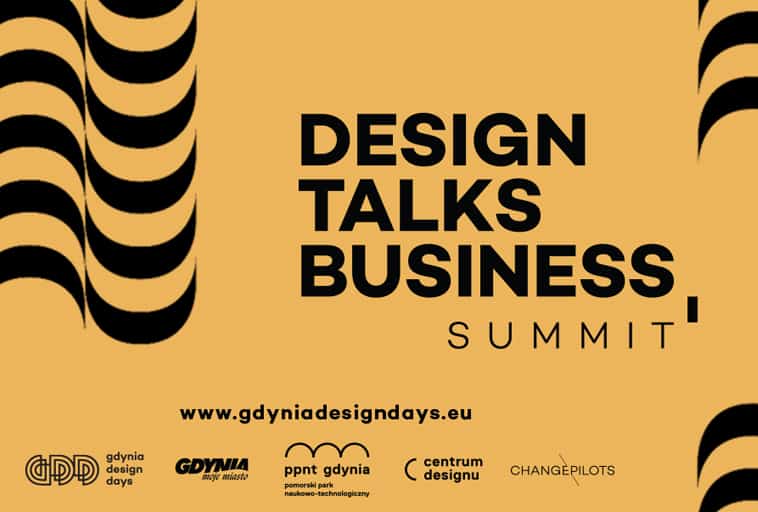 24/09/20
Gdynia Design Days Festival
Design talks Business Summit 2020
This year's edition of the business part of the Gdynia Design Days festival, Design talks Business, was a pretext to raise issues related to the functioning of the company during the crisis. Attention – the slogan of the entire festival was also perfect theme for business events at this special time. However, it was not only the pandemic that was the subject of the lectures and workshops. The main topic were issues related to responsible design and responding to present, global challenges.
Design talks Business was also a great opportunity to learn from the knowledge and experience of an international group of experts. This unique edition of Design talks Business Summit was hosted by Päivi Tahkokallio. In addition, our guests were, among others: John Thackara, Leyla Acaroglu, Yannick Meijers, Onat Vural, Sabine Berghaus and James Wallman.
Design talks Business Summit 2020 included 12 lectures and 13 workshops, prepared by experts from Poland and the world. The lectures streamed on YouTube were watched by several hundred people, and in the comments under each of them, there was a live discussion, which proves the involvement of the users.
More details at: https://gdyniadesigndays.eu/en/biznes-main/
---
Gdynia Design Days 2020 lectures available on YouTube
Due to the pandemic, almost our entire life had to move to the virtual world. Also our festival this year took place entirely online.The accompanying lectures on Gdynia Design Days were streamed via YouTube. It turned out that it is not only a challenge for us, but above all – an opportunity. A chance to reach a wider audience. As a result, some lectures and talks are permanently available on our YouTube channel.There are also videos from many other events.
These are substantive sources of knowledge, and the issues discussed concern on the most burning issues. How to design responsibly? Is there an alternative to plastic? How to implement the ideas of circular economy? How to stop exploiting the environment? Can a sustainable business model be profitable? What opportunities and threats does the development of technology bring? These are just some of the topics we cover in our videos.
All our videos at: https://www.youtube.com/user/CentrumDesignuGdynia/videos