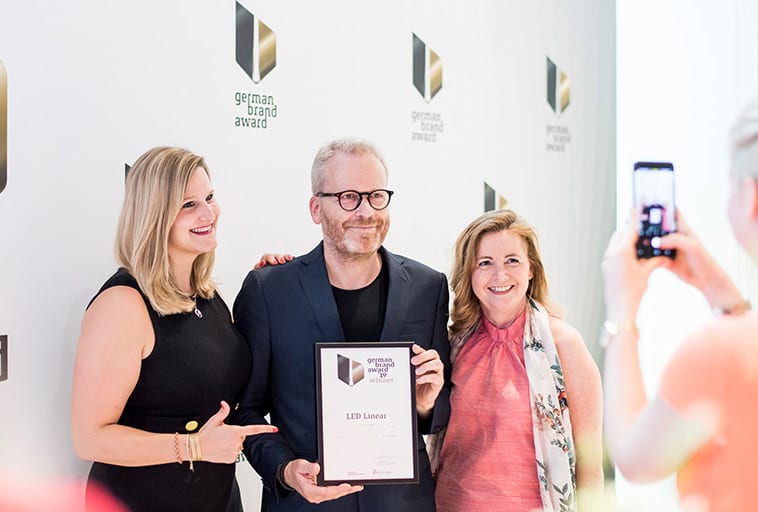 17/11/20
German Brand Awards 2021: Call for entries
Registration for the German Brand Awards 2021 is now open to companies, agencies and marketers from all around the world. Presented by the German Design Council and the German Brand Institute, the competition pays tribute to the most innovative brands and the best strategies for brand consistency and long-term brand communication.
Unique new trends are discovered and showcased at the German Brand Awards. Ultimately this benefits not only the winners, but the entire brand economy. Its enormous reach and the broad positive resonance among companies, agencies and service providers testify to the high relevance of excellent brand management. Both the awards ceremony and the German Brand Convention – a dialogue-based event to promote networking and the exchange of know-how – will be held in Berlin in June 2021. The German Brand Awards competition provides a forum for brand, communication and marketing experts, and promotes dialogue on current issues and future strategies.
The German Brand Awards 2021 is divided into two separate categories: "Excellent Brands" honours the best product and corporate brands in a specific sector, and "Excellence in Brand Strategy and Creation" recognises the strongest campaigns, concepts and strategies from individual specialist disciplines. Additional categories based around these two main branches of the competition pay tribute to the "Best of Best" across all sectors and disciplines.
The most important information at a glance:
For more information and to register, please visit german-brand-award.com
Early bird deadline: 04 December 2020
Registration deadline: 12 February 2021
The awards ceremony and the German Brand Convention will be held in Berlin on 17 June 2021.
---
German Design Council
The German Design Council has been operating since 1953 as one of the world's leading centres of expertise in communication and knowledge transfer within design, branding and innovation. It is part of the worldwide design community and has always contributed to the establishment of global exchange and networking thanks to its international offering, promotion of new talent and memberships. With events, conventions, awards, jury meetings and expert committees, the Council connects its members and numerous other international design and branding experts, fosters discourse and provides important stimulation for the global economy. More than 340 businesses currently count among its members.