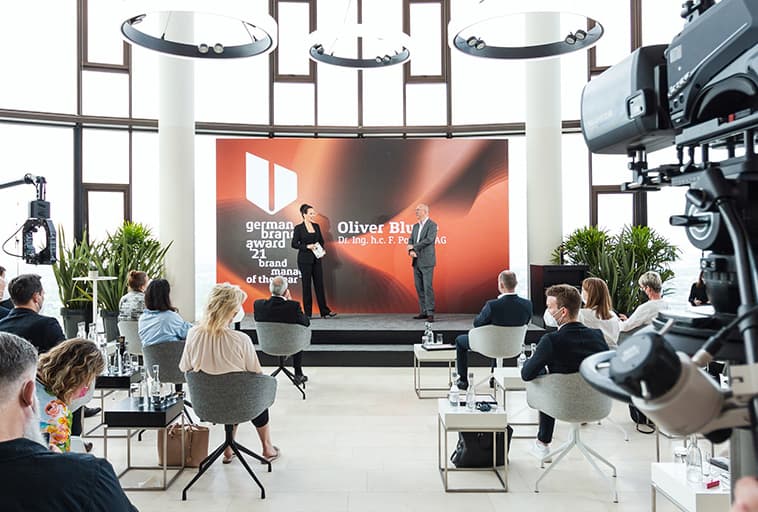 12/07/21
German Brands Award. German Brand Convention
At the German Brand Awards ceremony on 10 June 2021, top performances in consistent brand management, sustainable campaigns and marketing projects were honoured. The awards ceremony and the German Brand Convention took place in the elegant ambience of Tower 185 in Frankfurt am Main.
RWE, MHP Management- und IT-Beratung, Adam Riese, IU Internationale Hochschule, Deutsche Telekom AG, BMW Motorrad, Sartorius, Womanizer, FPS Rechtsanwälte & Notare, and Planted are the big winners of the German Brand Award 2021.
In addition, the winners of the »Best of Best« awards and the honorary award »Brand Manager of the Year« were honoured on stage: Oliver Blume, Chairman of the Executive Board of Porsche AG, as well as the young talents Sven-Oliver Pink, Florian Michajlezko & Dr. Oliver Steinki, Founder and Managing Director of FOND OF GmbH received distinguished as »Brand Manager of the Year« of the German Brand Awards 2021.
Viewers had the opportunity to find out about the latest trends and expert opinions on brand and brand management online via live stream during the expert talks and to get to know other brand managers in the virtual event area.
View the Awards Show und German Brand Convention on YouTube: https://www.youtube.com/watch?v=TJgyKc9k3WA
Photo: Daniel Banner