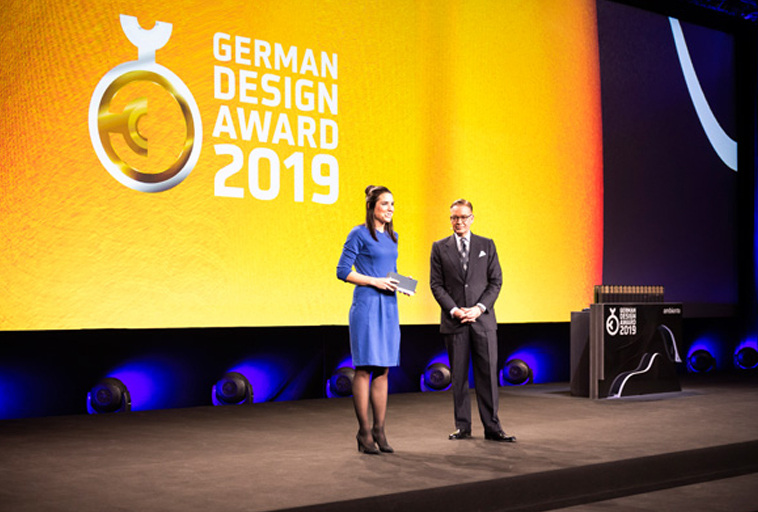 21/02/19
German Design Awards 2019 ceremony
The awards ceremony of the German Design Awards 2019 by the German Design Council took place on 8 February 2019 at the Ambiente Trade Fair in Frankfurt. Over 1,600 international visitors attended the design event of the highest calibre. The "Newcomer 2019" award went to Luzia Hein, who was delighted to receive 15,000 EUR in prize money. The award promotes and supports talented young designers, whereby gaining access to the German Design Council's unique international network is of major significance.
In another highlight of the ceremony, graphics and brand designer Peter Schmidt was acclaimed as "Personality of the Year". The Jil Sander logo and the minimalist design of the bottle for her first perfume are among his best-known creations. Schmidt and his partners Daniel Belliero, Marcel Zandée and Carsten Corleis currently work for an international clientele under the company name THE STUDIOS – PETER SCHMIDT DANIEL BELLIERO MARCEL ZANDÉE CARSTEN CORLEIS.
The winning projects of the German Design Awards 2019 "Excellent Product Design" were displayed in Frankfurt at the Ambiente Trade Fair. The "Excellent Communications Design" exhibition was open to the public from 9 to 24 February at the Museum Angewandte Kunst (Museum of Applied Art) in Frankfurt.
The German Design Awards constitute the German Design Council's premium international prize, and are one of the world's most renowned design competitions. With over 5,400 entries for the Product and Communications Design categories, the German Design Awards have once again seen pleasing growth in 2019. Product and project entries were received from 63 countries, with the share of international entries increasing to 54 percent. A total of 50 gold prizes were awarded across 55 categories.

Further information here:https://www.german-design-award.com/en/the-winners.htmlwww.luziahein.comwww.psbz.net