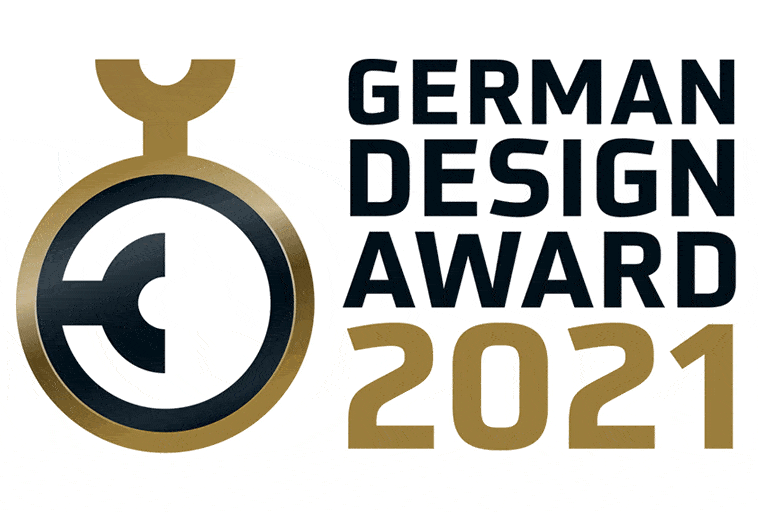 19/05/20
GERMAN DESIGN AWARDS 2021: Call for entries
Design, branding and innovation are the most important factors in the success of entrepreneurial strategy, especially in times of change and crisis like the present. Receiving a renowned award is an efficient opportunity to draw attention to the recipient's work with precise, positive messages. The German Design Awards – the international premium prize of the German Design Council – are entering the call-for-entries stage and offering winners the best-possible opportunity for publicity. They are proof of innovation capability and design expertise and demonstrate that the winners are well positioned and able to differentiate themselves through outstanding design.
Businesses, designers, architects and agencies internationally can register now for the German Design Awards 2021. After a review by the German Design Council, entrants will find out if their project has been accepted for the competition and is receiving a nomination; the nomination process here is what ensures the excellence of the awards. The registration deadline is 10 July 2020.New category: Start-Up – innovative, forward-looking projects with growth potential
For the first time, start-ups and their projects will be judged and awarded in their own category based on the aspects of innovation, growth and scalability. Winners will receive the label German Design Award – Start-Up 2021 as well as other benefits to support them with their public relations, networking and client acquisition. Participation is open to start-ups that are younger than four years old. The entrants' date of formation must have been in February 2017 or after.
Important details at a glance
Registration at early-bird price: until 29 May 2020
Deadline for grant applications: 10 July 2020
Registration deadline: 10 July 2020
Jury meeting: 30 and 31 July 2020
Awards ceremony: 19 February 2021 in Frankfurt am Main as part of the Ambiente 2021 trade fair
Information and announcement documents at:german-design-award.com
---
German Design Council – the award giver
The German Design Council is one of the world's leading centres of expertise in communication and knowledge transfer within design, innovation and branding. More than 320 businesses are currently members of its Foundation. The German Design Council was founded in 1953 as an initiative of Germany's federal parliament to strengthen the German economy's competence in design. Its many and varied activities all have the one aim: communicating a lasting improvement of brand value through the strategic use of design.