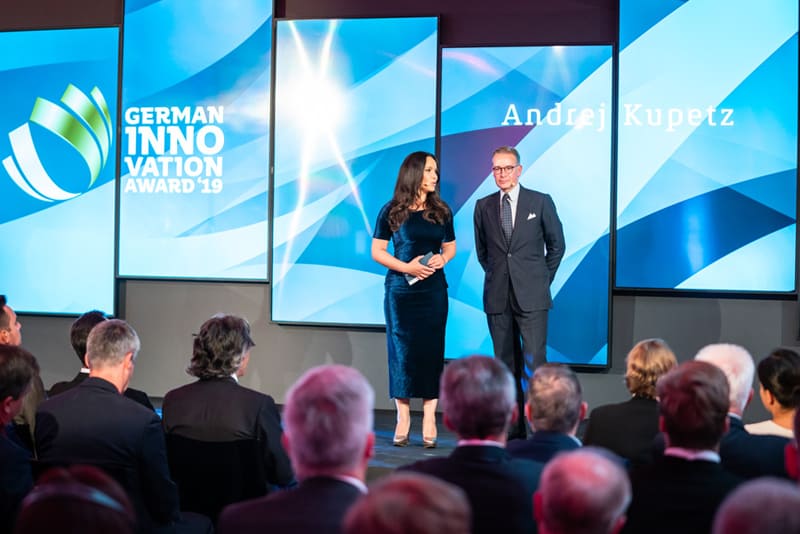 14/06/19
German Innovation Awards 2019 – The awards ceremony
The aim of the German Innovation Awards by the German Design Council is to shine a light on ground-breaking innovations, and to provide a public stage for their creators.
On 28 May 2019, the network exhibition at the German Museum of Technology in Berlin provided a perfect setting for the prize-giving ceremony. Over 350 chosen guests from industry, politics and the media attended the event to celebrate the 36 winners of the Gold title as they took to the stage to claim their awards.
The prestigious titles "Gold", "Winner" and "Special Mention" were awarded in 40 competition categories, as well as the supplementary category "Design Thinking".
Impressions from the awards ceremony can be found at:https://www.german-innovation-award.de/en/winners/German Design Council – the organiser
The German Design Council is one of the world's leading centres of expertise in communication and knowledge transfer within the design, branding and innovation sectors. Its Foundation currently numbers more than 300 companies among its members. The German Design Council was founded in 1953, at the initiative of the German Federal Parliament, to support and enhance design expertise in the German economy. It pursues a wide range of activities with a single goal: to promote awareness of how to increase brand value on a sustained basis through the strategic use of design.