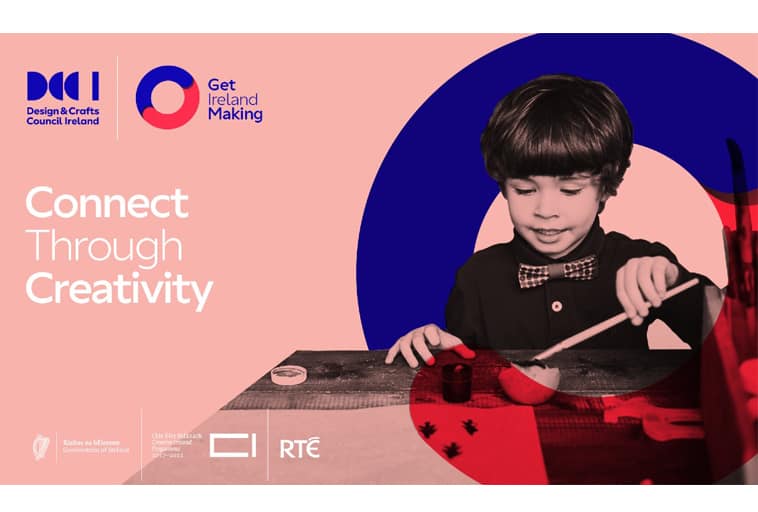 19/05/20
GET IRELAND MAKING
Get Ireland Making is a new series of online workshops and activities hosted by Design & Crafts Council Ireland (DCCI). Involving Ireland's designers, makers and the public, this programme is supported by Creative Ireland and Healthy Ireland. Get Ireland Making is part of a Government-led inter-agency initiative.
The creative project aims to engage the public and the design and craft community. It focuses on activities designed to support well-being and build resilience. As we all practice social distancing, Get Ireland Making offers a unique opportunity to connect and unite through creativity and craft.
DCCI is working with a team of talented makers and designers to develop a series of both live online workshops and short video tutorials. A broad range of craft disciplines, including weaving, printing, basket making, ceramics and much more, is covered in these exciting, immersive sessions.
Videos can be found on the Get Ireland Making playlist on DCCI's YouTube channel.
Full details are on DCCI's website at www.dcci.ie/getirelandmaking and through DCCI's and Creative Ireland's social media platforms.
Design & Crafts Council Ireland
Facebook: https://www.facebook.com/DCCIreland/
Twitter: https://twitter.com/dccireland
Instagram: https://www.instagram.com/dccireland/Creative Ireland
Facebook: https://www.facebook.com/CreativeIrl/
Twitter: https://twitter.com/creativeirl
Instagram: https://www.instagram.com/creativeireland/
Also supporting the promotion of these activities through www.rte.ie/culture and its social media channels using #createdontcontaminate