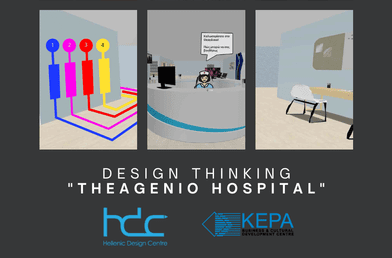 08/11/22
Hellenic Design Centre successfully cooperates with the health sector
After the very successful cooperation with the AHEPA University General Hospital, one of the biggest hospitals in Greece, Hellenic Design Centre, the first established Design Centre that promotes and trains new professionals in Design Thinking methodology, was asked to provide Design Services, for the second time in the health sector, to the biggest anti-cancer hospital in northern Greece.
The hospital's management was asked to create a working team so that HDC's members could start the research phase in order to identify the problems that staff, and patients deal with every day.

Through interviews, observation and context analysis, the Design Team defined the core challenges of the hospital, categorized them and offered them for validation to the hospital stakeholders.
Upon completion of the first phase, the process continued with co-design workshops among both sides, with the goal to create new ideas for the hospital's challenges, which were, scheduling an appointment for a patient, the patient's journey inside the hospital when he/she visits for the first time, tracking patient's health folder and many more.
Some of the top solutions that came up and Hellenic Design Centre's team developed with additional research, was the establishment of a new reception office at the entrance of the main building, color coding floor lines, and another 15 solutions to various problems. In this regard, the simplest but most valuable solution was to print a leaflet that would be distributed to all the health centers throughout Greece. This would ensure that every patient would know how to schedule an appointment and which path to follow inside the hospital, an easy but very effective, functional and practical solution to one of the biggest hospital challenges.
The final deliverable will be a full-service solution manual that would include all the completed prototypes and HDC's team is already looking for the next big challenge, since one of its main goals is to tackle social challenges with innovative tools that put the end user in the middle of the process.
Image cre
dit: KEPA/HDC