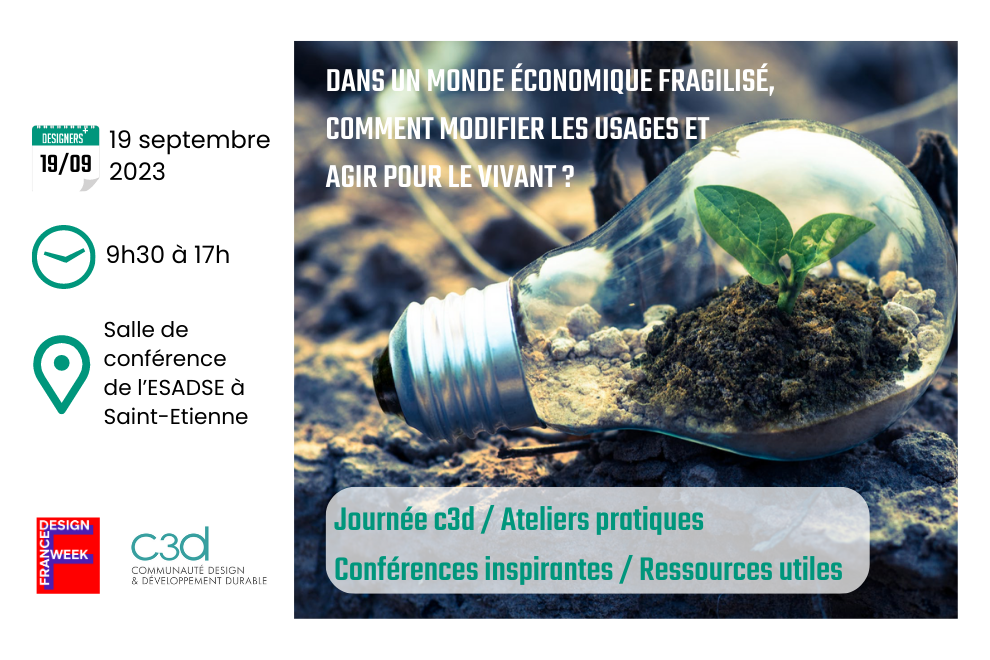 13/07/23
Inspiring Workshops on 19 Sept 2023. France Design Week: In a Fragile Economic World, How Can We Change Usage and Act for the Living?
Designers+ is pleased to share with you the following event, brought to you by the c3d innovation community as part of France Design Week 2023.
Inspiring workshop day on 19 September 2023.
In a fragile economic world, how can we change usage and act for the living?
As part of the France Design Week national event, running from 14 to 28 September, the c3d innovation community, made up of the Cité du Design, CIRIDD, Designers+ and Pôle-Ecoconception, are offering a day of workshops culminating in an inspiring conference on 19 September 2023.
The theme of France Design Week 2023 is "Vivant, vivants". We have seized upon this proposal by bringing it closer to the missions of our innovation community. Our observation? The interdependence between biodiversity and business activities is strong, as demonstrated by COP15 in December 2022.
In this relationship, how can we harmonize design projects with the challenges of preserving the living world? How can we question interdependencies and re-question uses? Rethink economic models and create desirable futures?
To nurture this reflection, we're offering a series of practical workshops throughout the day, where business leaders, project managers, designers and conceptual thinkers will be encouraged to question, understand, experiment and model, before taking action and implementing solutions that preserve biodiversity and man's place in this system.
Following these workshops, we'd like to invite you to an inspiring conference with Maurice Rebex, adventurer and photographer, who invites us to rethink our attitude to the world, drawing on his many travels and encounters, particularly with the Lakota Sioux. With his conference "Tous Reliés" and his book "L'esprit ensauvagé", he offers us a panorama of wide-ranging reflections, a promise of reconciliation with our deepest nature. In order to bequeath a viable planet to future generations, he proposes a path that invites us to adopt this other way of being in the world, by inspiring our spirit with the thinking of primitive peoples.
When: Tuesday, 19 September 2023, from 9:00 to 17:00
Where: ESADSE, conference room, 3 Rue Javelin Pagnon, 42000 Saint-Étienne, France
Registration Link (free event, registration required): www.billetweb.fr/dans-un-monde-economique-fragilise-comment-modifier-les-usages-et-agir-pour-le-vivant