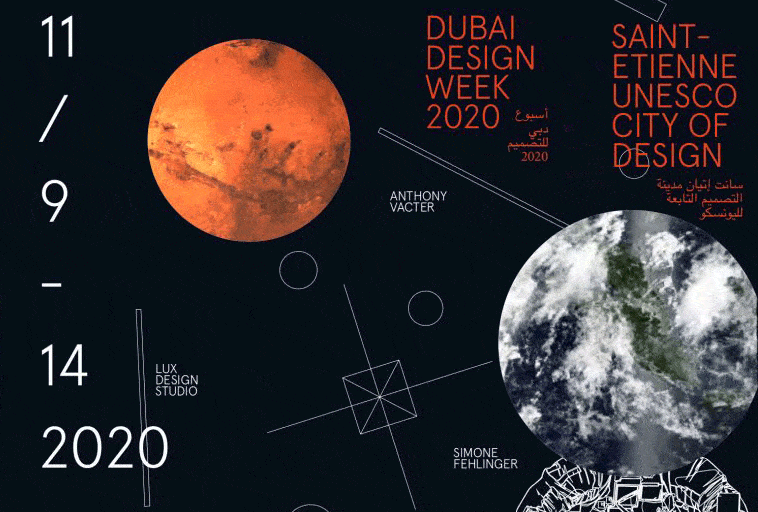 17/11/20
La Cité du design launches three designers into the stars
The Cité du design Saint-Etienne, in association with the Institut Français (French Institute, the cultural department of the French Embassy), launched three designers "up to the stars" with an exhibition at the Dubai Design Week 2020 on the theme of space exploration and design.
The exhibition explores the frontiers between engineering and artistic practices with the projects of young designers, disseminating thus French design internationally.
The showcase consists of three projects:
"UNE VIE SUR MARS", by Anthony Vacter, designer and a graduate of the Saint Etienne Higher School of Art and Design. This design fiction project in the form of 3d printed objects, proposes a scenario of life in space in 2050, after an ecological disaster on earth.
"TEASING NEW WEATHER TV" by Simone Fehlinger, designer and researcher at the Cité du design. In the context of the launch of the Hope probe of the Emirates Mars mission, which aims to study the weather conditions on Mars, the installation shows the relationship between design, architecture, space exploration, meteorological imagery and current visual and material culture.
"L'ETOILE" by LUX, a design studio composed of the creative duo, Simon Chevalier and Lucile Cassassolles. Humanity has always been fascinated by the stars, which have inspired science fiction, clairvoyance and astronomy. The large-scale 3D installation pays homage to the stars that have provided a discreet backdrop to the world since the beginning of time, when man first looked up at the night sky in wonder.
For more details click here