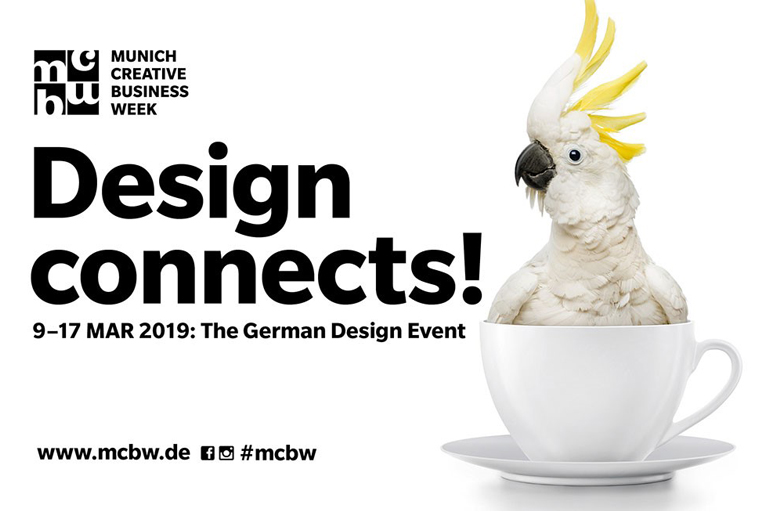 21/02/19
Munich Creative Business Week 2019
Following the guiding principle Design Connects, the eighth edition of MUNICH CREATIVE BUSINESS WEEK (MCBW) will take place from March 9 to 17, 2019. The varied program includes more than 200 events and addresses experts as well as the general public interested in design. Organized by bayern design GmbH, MCBW is the largest design week in Germany. In 2018, MCBW was attended by 78,000 visitors. Following the slogan "Design connects", more than 75,000 participants will encounter substantial transfer of knowledge and inspiring design experiences in the two program segments, CREATE BUSINESS! for professionals and DESIGN SCHAU! for all other design aficionados.
CREATE BUSINESS! MCBW'S Dialog and Network Platform for Design Professionals
Design as a stimulus for innovation stands for an active-creative, humane implementation of change. With that in mind, MCBW presents groundbreaking ideas, sustainable trends and new products in conferences, symposiums and workshops, at receptions and other events of all kinds. MCBW enables the initiation of business contacts as much as in-depth transfer of know-how and lively discussions – between the corporate world and the design sector on the one hand, and among the manifold creative disciplines on the other.
MCBW START UP, the founders platform created by bayern design, promotes targeted networking among design-oriented start-ups, both young and experienced designers and business experts to enable professional and successful careers in this segment.
DESIGN SCHAU! MCBW'S Showcase for the Design-Savvy Public
For nine days, visitors are invited to experience, try and understand all facets of design up close. Exhibitions, vernissages, events and campaigns at more than 100 venues in Munich and throughout Bavaria provide guidance to the core of Bavarian and international design culture: DESIGN SCHAU! presents Munich as an extremely vibrant German design metropolis.
MCBW 2019's full program is available now at:mcbw.de.