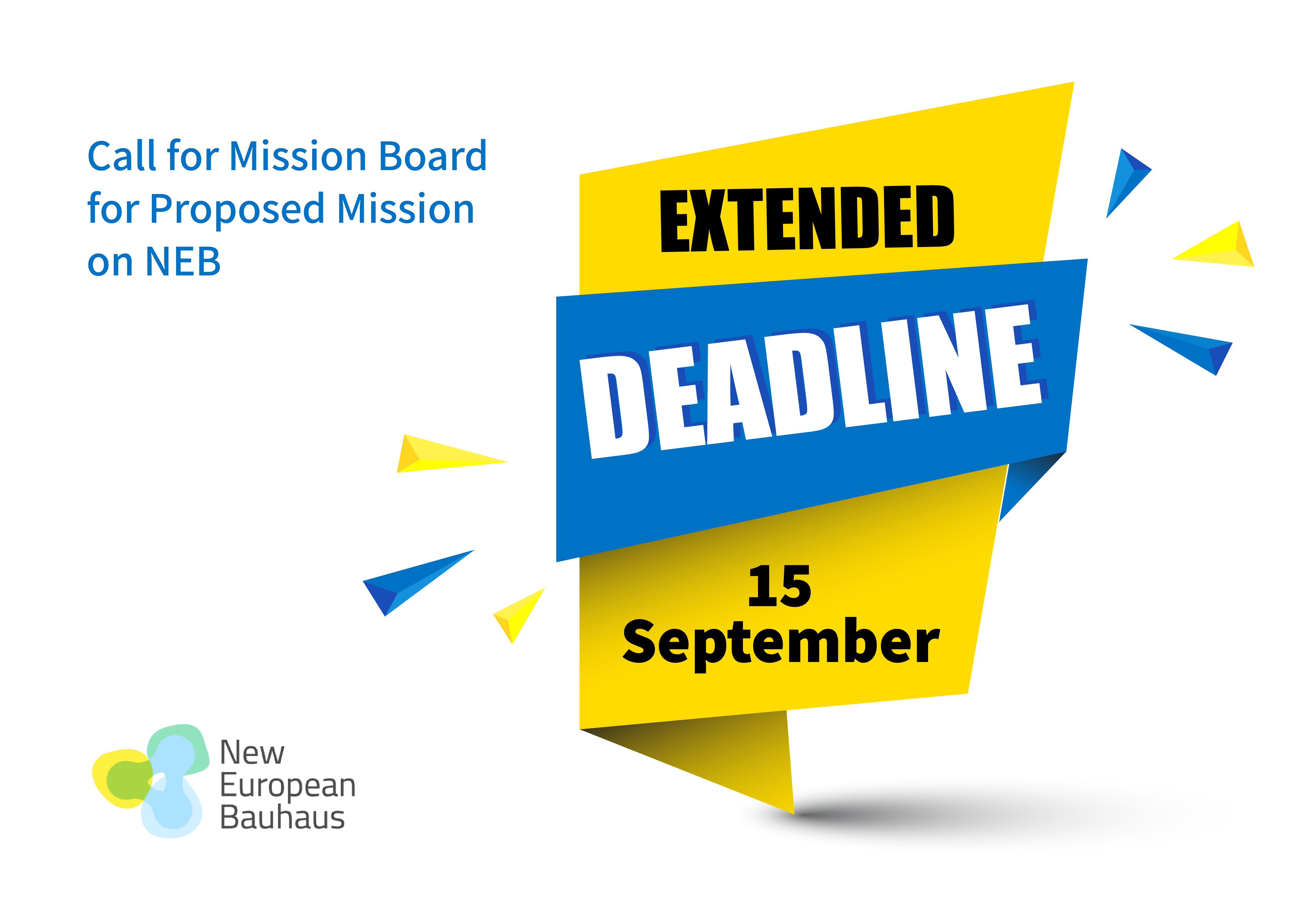 28/08/23
New deadline - 15 Sept 2023 for the Call for Mission Board for Proposed Mission on NEB
The Commission has extended the deadline for the submission of applications for the Mission Board for the proposed Mission on NEB to 15 September by 12:00 (CET).
Those who have already submitted their applications between 31 July 2023 and 22 August 2023 need not re-apply under this extended call. The extension is to ensure that all stakeholders have adequate time to submit their applications, including those who may have been unavailable during the summer vacation period.
About the call
The Mission Board's main task is to guide the Commission in developing a potential future New European Bauhaus Mission proposed on 19 July 2023. This guidance will involve insights on the mission's design, objectives, relevant indicators, and timelines. The Mission Board will also offer advice on the necessary research and innovation content to achieve the mission's objectives, considering input from stakeholders and the public, promoting investment in bold innovation related to the New European Bauhaus.
Requirements
The Mission Board of the proposed EU Mission on the New European Bauhaus should comprise a balanced team of up to 15 high-level experts with diverse profiles. These experts should cover several domains, including business, public administration, science, research and innovation, culture, citizen engagement, and civil society organizations from across Europe and beyond. The Mission Board members should be individuals appointed in a personal capacity, act independently and in the public interest, demonstrate a clear understanding of the New European Bauhaus, and have a deep commitment to the success of the proposed mission.
How to apply?
The call for applications is published on the Commission's Register of Commission Expert Groups and Other Similar Entities website. Interested individuals are invited to submit their application via the EUSurvey platform. by 15 September 2023 by 12:00 (CET)
Deadline: 15 September 2023, 12:00 (CET)
Registration Platform: ec.europa.eu/eusurvey/runner/ProposedNEBMissionBoardCall