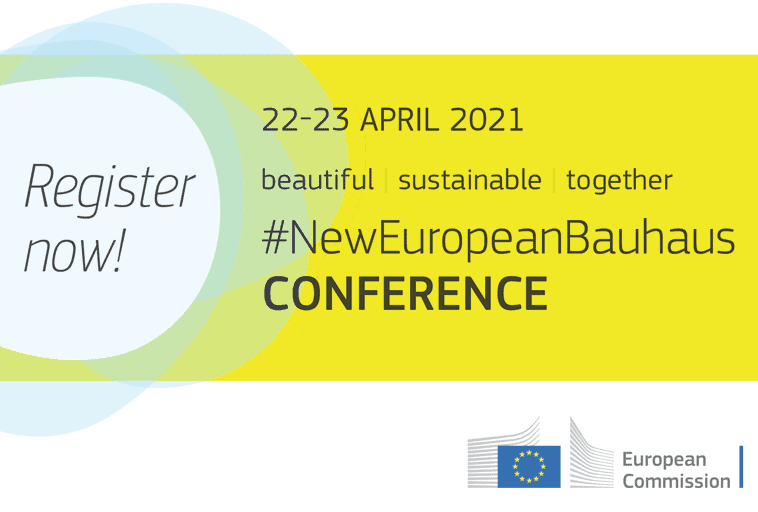 18/04/21
New European Bauhaus Conference – 22 and 23 April 2021
BEDA President to sit on NEB Panel Discussion
The European Commission's first conference of the New European Bauhaus will take place over two days on 22 and 23 April 2021.Anyone can register for the conference free of charge here.
BEDA is delighted to announce that BEDA President Päivi Tahkokallio has been invited to join Shigeru Ban, Founder of Shigeru Ban Architects and Michela Magas, Industry Commons concept creator, along with Elisa Ferreira, European Commissioner or Cohesion and Reforms and Marcos Ros Sempere, MEP and Founder of the New European Bauhaus Friendship Group in the European Parliament, in the first panel discussion on, 'Placeship European Bauhaus: A Journey to the Future', to be held from 15:00 to 16:00 CEST on Thursday 22 April 2021.
DAY ONE – Thursday 22 April 21
The two-days of proceedings including presentations, dialogues and workshops, will begin with opening remarks from Ursula von der Leyen, European Commission President; Davide Sassoli, President of the European Parliament and António Costa, the Prime Minister of Portugal.
These remarks will lead to a first keynote dialogue exploring the New European Bauhaus as a project of hope and a driver for change between Mike Bloomberg, Entrepreneur, philanthropist and three times Mayor of New York City, and architect Bjarke Ingels, Founder and Creative Director of Bjarke Ingels Group (BIG).
The afternoon sees a second dialogue on the New European Bauhaus triangle of virtue: 'Beautiful, Sustainable. Together' followed by the second panel discussion on the NEB: 'A bridge between art and technology in a global world'. Panellists include artist Olafur Eliasson and European Commissioner for Innovation, Research, Culture, Education and Youth, Mariya Gabriel.
DAY TWO – Friday
On Friday 23 April, starting at 12:50 CEST, the first part of the afternoon will be reserved for four workshops facilitated by members of the New European Bauhaus High-level Roundtable and official partners of the project. Four themes will be covered: 'Regenerating Construction Eco-systems'; 'Rediscovering the Spirit of a Place'; 'Co-designing the New European Bauhaus Movement', and 'New Relationships with Nature'.
At 15:00 CEST the first Bauhaus Prize will be announced followed by a 1 hour session that will seek to harvest ideas from the co-creation workshops; this to be led by John Schnellnhuber, Founding Director of the Potsdam Institute for Climate Impact Research and Francesca Bria, President of the Italian National Innovation Fund.
Before the closing remarks by Thierry Breton, European Commissioner for Internal Market (tbc), the final Panel discussion will explore 'Transformative Ideas for the New European Bauhaus' with panellists including Zdeněk Hřib, Mayor of Prague, Younous Omarjee, Chair of the Committee on Regional Development, European Parliament and Nuno Jardim Nunes, President, Interactive Technologies Institute and National Director of the Carnegie Mellon International Partnership.
The two day conference offers a clear insight into the growing scope and scale of the New European Bauhaus movement. BEDA is excited to be an official partner and to play a part in the emergence and development of this key, strategic European initiative with design values at its heart.
New European Bauhaus Conference – 22 and 23 April 2021
---
Other events and activities associated with the New European Bauhaus are to be found here