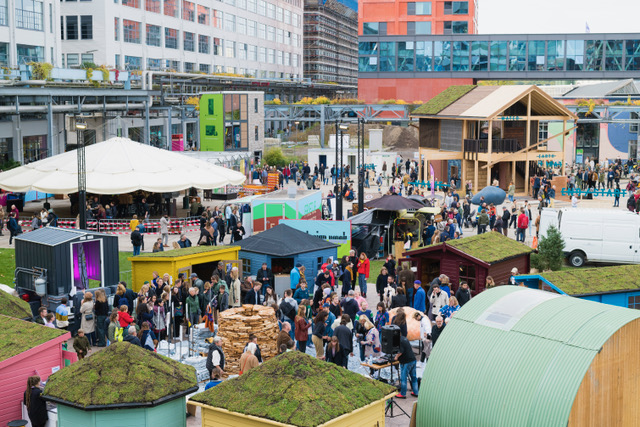 26/05/22
New European Bauhaus Festival 10 June
BEDA meets New European Bauhaus:
The first New European Bauhaus festival will be a hybrid event organized from 9 – 12 June by the European Commission in Brussels. As one of the first partners and advisors, BEDA is organizing on 10 June the BEDA meets New European Bauhaus program. We will jump virtually from two BEDA member festivals taking place in Barcelona and Saint Etienne to the live festival in Brussels.
The main activities will take place in Brussels, with parallel events throughout the EU and beyond.This festival brings together people from all walks of life to debate and shape our future:
A future that is sustainable, inclusive and beautiful. It's a great opportunity to network, exchange and celebrate – from science to art, from design to politics, from architecture to technology.
BEDA x NEW EUROPEAN BAUHAUS programme
10:00-12:00 CEST Barcelona Design Week, online
Global Design talks organized by: BcD. with the collaboration of BEDA and World Design Weeks
Speakers:
Álvaro Gómez-Sellés, Architect, musing-sellés (NYC-Madrid),
Anna Valtonen, Professor of Strategic Design at Aalto University (Finland),
Adrian Jankowiak, Founder of Nairobi Design Week (Nairobi, Kenya),
Xavier Torras, Communications Director at Roca Group (Barcelona),
Mariana Eidler, Co-founder of FORK (Barcelona)
Ewa Chudeka, Manager of a Design Center & Gdynia Design Days (Gdynia, Poland)
Theme of the talks is Regaining a sense of belonging. The speakers will discuss how festivals and other creative initiatives can foster this feeling in local communities and how international visitors perceive it.
Place: Roca Barcelona Gallery and online. Session in English.
Registration for attending online: HERE
Barcelona Design Week event page: https://barcelonadesignweek.com/en/activitats/global-design-talks-regaining-a-sense-of-belonging-2/
14:30-16:00 CEST Biennale Internationale Design Saint Etienne, online
Global Design talks moderated by Päivi Tahkokallio – CEO of Tahkokallio Design+, BEDA Past President
The topic of the dialogue will be Prioritising places and people that need it the most and how can design help and add value to the responsible performance of businesses.
6 experts representing design and other fields invited to dialogue with the participants/audience, all of whom are also considered experts, will highlight the role of design in this theme.
Speakers:
Silvia Doré – Alliance France Design President
Sarah Fouquet – Singa Saint-Etienne
Catharine Rossi, Penny Sparke, Jana Scholze – Professors at Kingston University, London. Curator Team of the exhibition 'At Home' at Biennale Internationale Design Saint-Étienne
Stéphane Thirouin – Williwaw, Designer and Entrepreneur
Place: Cité du design Saint-Etienne and online – Session in English with French translation
Free access without registration
Registration for attending online: HERE
Biennale Internationale Design Saint-Etienne event page: https://www.biennale-design.com/saint-etienne/2022/fr/a/global-design-talks-saint-etienne–2045
16:00-18:00 CEST Building a Bright Future – MAD Brussels, online
Online and live from MAD Brussels with Wallonie Bruxelles Design Mode & Dutch Design Foundation.
Discover how creativity and beauty engage in taking up more sustainable ways of building and living in Europe. Get inspired by cocreation projects in design and other industries, the research and policy sector. Explore together opportunities and discuss what support can help to move beyond boundaries.
Hosts:Lucas de Man – Ambassador Biobased & Circular Building – Dutch Design Week
Isabelle Verilhac – President BEDA, Head of International Affairs and Innovation, Cité du Design, Saint Etienne
Aurélie Champagne – Counsellor for Culture, Audiovisual, Media and Copyright at the Permanent Representation of France to the European Union
Ilona Lelonek – Policy Officer DG Growth
Meline Arakelian – Chef de poste of Dutch Embassy Brussels
Speakers:
Register to attend live in Brussels HERE
Register to attend online HERE
MAD Brussels event page: https://mad.brussels/en/agenda/building-bright-future
Come and join us online! And might you be around, come and participate in the Brussels event.
Global Design Talks is an initiative of Arctic Design Week in Finland.
Full program of New European Bauhaus Festival: https://new-european-bauhaus-festival.eu/home