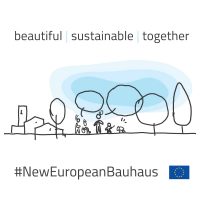 14/01/22
New European Bauhaus funding opportunities: Online info session on 27 January 2022
The online event on will give the opportunity to prospective applicants to learn more about the EU funding possibilities available to support beautiful, sustainable, and inclusive projects and ideas. Join for practical info on the calls and a Q&A.
No registration required. The link to the livestream will be available HERE.
The session will be recorded if you cannot attend.
The New European Bauhaus initiative connects the European Green Deal to our living spaces. The New European Bauhaus is a creative and interdisciplinary movement in the making. BEDA is one of the first Official Partners of the New European Bauhaus, and has worked with the NEB team since the beginning of the project. Today, 11 BEDA members are also Official Partners.
#neweuropeanbauhaus