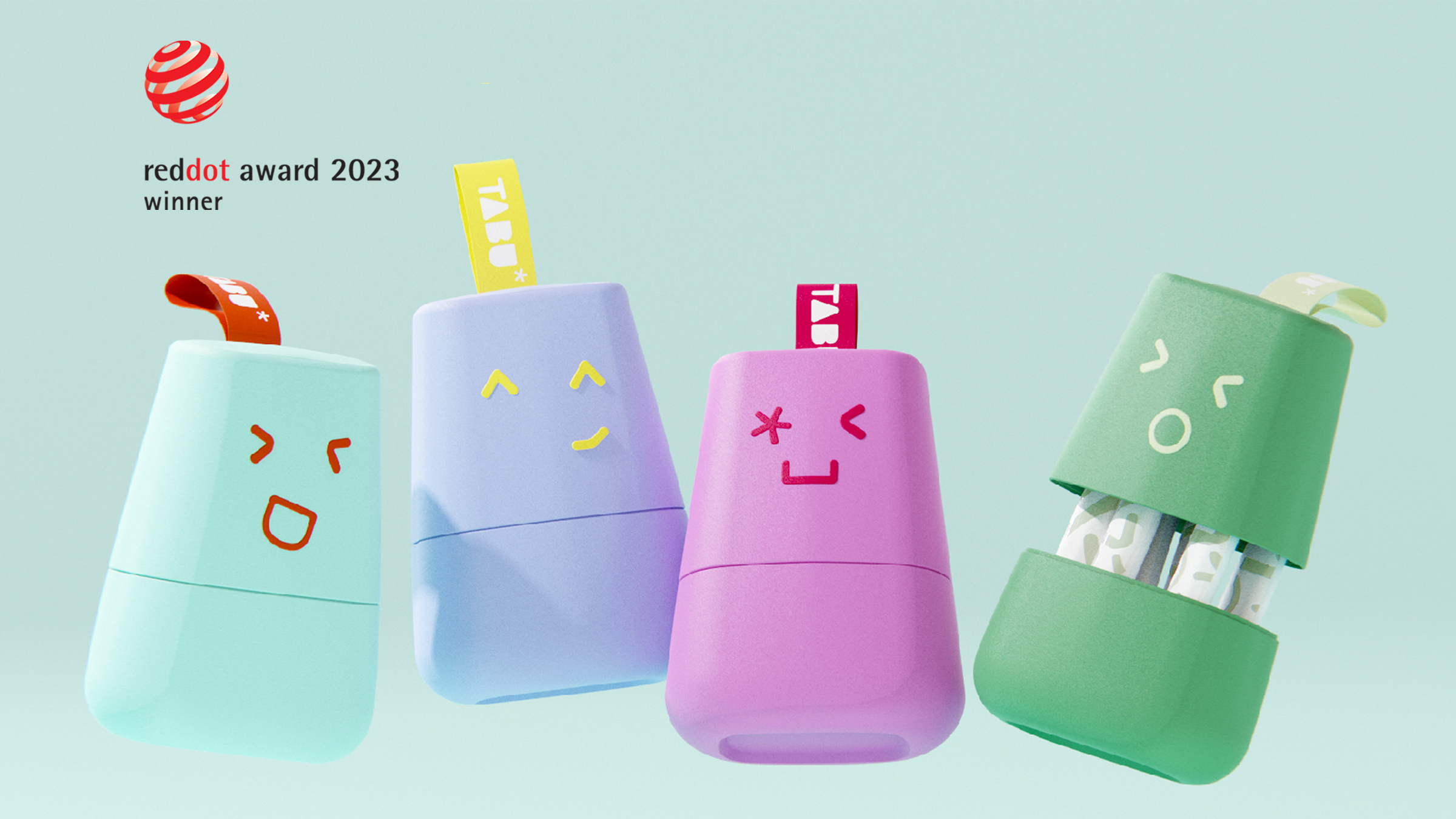 14/11/23
PDR's Tabu* presented with a Red Dot Design Concept Award for 2023
Following the PDR's recent Gold IDEA 2023 award win, we are very proud to announce that PDR has also received a Red Dot Design Concept Award for 2023 for our design concept, Tabu*, a product created to educate and support pre-menstrual users.
Tabu* is designed to empower young individuals as they approach their first period. It aims to break the stigma surrounding menstruation and ensure positive experiences by guaranteeing access to menstrual products and educational resources.
Tailored with Generation Alpha in mind, Tabu* offers a customisable carrying case containing a day's worth of pads or tampons, featuring vibrant and interactive packaging for personal expression. It also incorporates a QR code connecting to the Tabu* mobile application, which offers reliable and inclusive materials to educate and inform young people aged seven to seventeen.
Tabu* has been awarded a Red Dot Design Award in the Design Concept category.
Katie Forrest-Smith, CMF Designer at PDR shares her thoughts on the award:
"We're delighted to have received this prestigious award from Red Dot Concept for Tabu*. The recognition Red Dot has provided this project affirms the potential the product has to reduce societal stigmas that surround menstruation, allowing young people to feel prepared and empowered whilst navigating their period."
About the Red Dot Design Award
Red Dot represents top-tier design and business excellence through its renowned international competition, the 'Red Dot Design Award.' Held annually, this competition recognises outstanding design in product, communication, and design concepts. The 'Red Dot' distinction is globally acknowledged as a mark of quality design.
The award is divided into three categories: the Red Dot Award for Product Design, the Red Dot Award for Brands & Communication Design, and the Red Dot Award for Design Concept.
Next Steps
Read more PDR news or get in touch to discuss a project.
More Information: pdr-consultancy.com/news/pdrs-[…]-award-for-2023