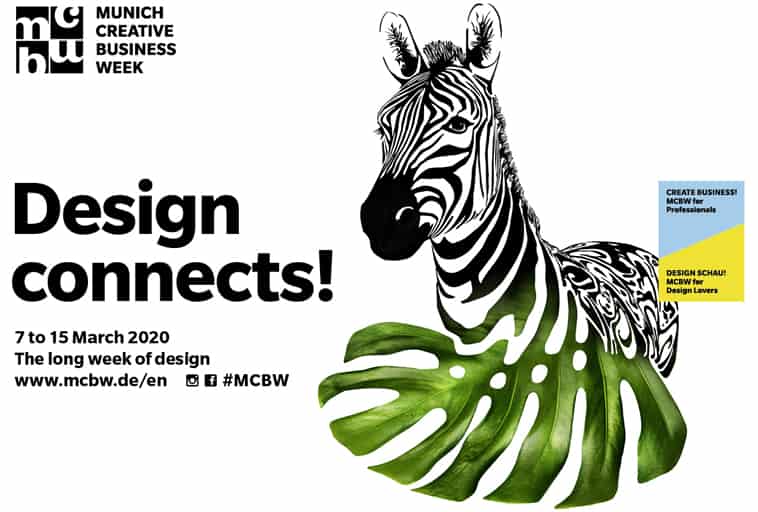 29/01/20
Sustain by Design: MCBW 2020
Over 200 events of the Munich Creative Business Week (MCBW) from 7 to 15 March 2020 have been announced, with the focus on sustainability.
Fridays for Future, Made by Vielfalt and many more initiatives on sustainability demonstrate: It's time to act. And not only with regards to climate change, but also when it comes to education, integration, traffic, housing, etc. Good design advances sustainability: ecologically, economically and socially. With its emphasis on "Sustain by Design", presents the program for the long week of design 2020. A special focus lies on the topics of communication, innovation, digitalization, urbanization, fashion and new work.
For the first time at the MCBW, the Forward Festival, the Munich Stoff Frühling and the Internet World Expo are among the exhibitors. In addition, more than 20 events take place in the Lower Bavarian region of Landshut, which presents itself for the first time at the MCBW as well. Moreover, in cooperation with Munich Airport, bayern design presents innovative startups at Terminal 2.
As of today, the MCBW program is available online. With their diverse topics, the more than 200 first-rate events address design experts and design lovers likewise. Many events are free of charge and accessible without reservations. During the MCBW, visitors may obtain information and advice on events, watch design films or shop socially responsible in the our superstore at the MCBW FORUM at the University of Television and Film Munich (HFF).
Munich and Bavaria are centers of creativity that exemplify excellent connections between design and the economy. MCBW takes place in the first quarter of every year and is the largest design event in Germany. To illustrate the region's design potential, along with more than 120 committed program partners MCBW creates a platform where companies with an affinity for design as well as designers, design agencies across disciplines including architecture and advertising, and design aficionados can follow the claim "Design connects!" More than 70,000 participants can take advantage of the substantial opportunities to transfer knowledge and explore inspiring design experiences offered in two programs: CREATE BUSINESS! for professionals, and DESIGN SCHAU! for all others interested in design.
The MCBW is organized by bayern design GmbH and sponsored by the Bavarian Ministry of Economic Affairs as well as by the City of Munich. BMW Group, Steelcase and Ströer provide substantial support as MCBW partners.
For more information:https://www.mcbw.de/en/home.html