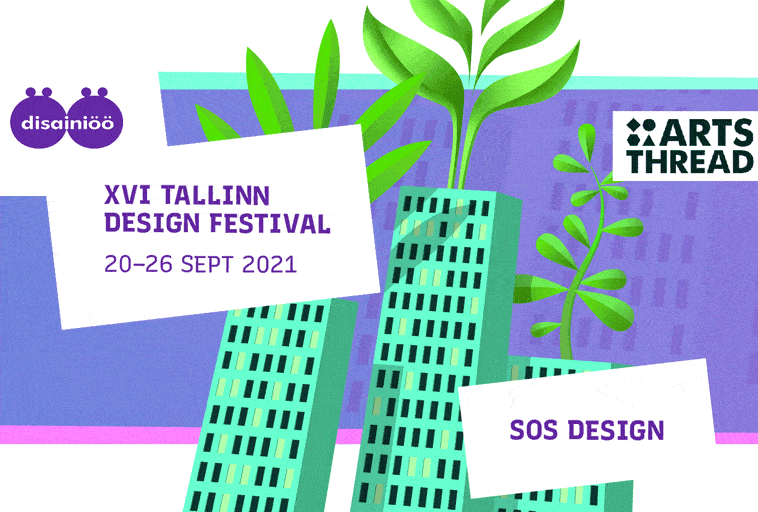 14/09/21
The 16th Tallinn Design Festival DISAINIÖÖ will take place from 20-26 September 2021
This year's theme is SOS DESIGN. One of the aims of the festival is to draw attention to the role of design in resolving changes and crisis situations in society. In the context of a pandemic, the role of crisis design is more important than ever before. And not just in healthcare. There are many global problems that require urgent intervention: the economic crisis, global warming, the energy crisis, poverty, and so on.
The festival program focuses on crisis design topics: corresponding workshops and discussions will take place. Experts with international crisis experience will speak at the SOS conference. Italian Design Day focuses on technology. The international exhibition SOS DESIGN brings to the viewer examples of the responsible design of the ArtsThread competition (UK). The Estonian exhibition of sustainable design SECOND CHANCE demonstrates products and materials that have gained a second life. The poster art exhibition ABSURD introduces the best of international graphic design. The exhibition of design schools has become more and more popular among young people.
Traditionally, the festival program includes designer talks such as PechaKucha, and I Am a Designer; the fashion show D_O_M and a design market Disainitänav, which has become a favorite of the audience. As a novelty, the program includes a series of lectures TRAVELLING TALKS, which takes place within the framework of the EU project Human Cities and introduces the changes in the living environment and cultural life in the periphery that started with the citizens' initiative.
The heart of the festival is located in an old rubber factory Põhjala, which will be transformed into an atmosphere inspired by the theme. In cooperation with the Festival of Light, the Future Graveyard will be presented and Stalker pop up museum opened. Satellites will be emerging all over the city, opening their doors to shows and workshops. A solo exhibition of a famous lighting designer, Tarmo Luisk, will be shown at Design Museum.
This year, special attention will be paid to children and young people. The aim of the survival-themed competition within the framework of the children's program is to popularize the methodology of design thinking in young people and to show how to develop children's creativity with well-thought-out design.
Tallinn Design festival has won the EFFE Label, which is Europe's quality stamp for remarkable arts festivals.
Find out more here: www.tallinndesignfestival.comMore on Facebook here: https://www.facebook.com/events/238088478074252