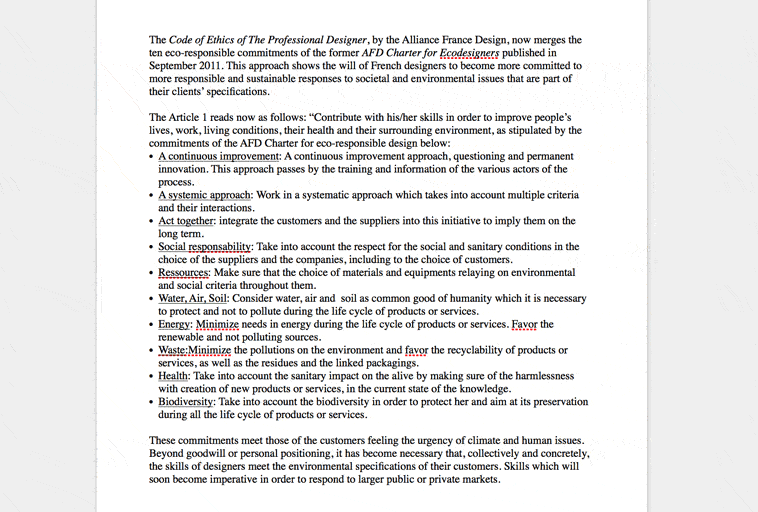 15/03/21
The Code of Ethics of The Professional Designer
The Code of Ethics of The Professional Designer, by the Alliance France Design, now merges the ten eco-responsible commitments of the former AFD Charter for Ecodesigners published in September 2011.
This approach shows the will of French designers to become more committed to more responsible and sustainable responses to societal and environmental issues that are part of their clients' specifications.
The Article 1 reads now as follows: "Contribute with his/her skills in order to improve people's lives, work, living conditions, their health and their surrounding environment, as stipulated by the commitments of the AFD Charter for eco-responsible design below:
A continuous improvement: A continuous improvement approach, questioning and permanent innovation. This approach passes by the training and information of the various actors of the process.
A systemic approach: Work in a systematic approach which takes into account multiple criteria and their interactions.
Act together: integrate the customers and the suppliers into this initiative to imply them on the long term.
Social responsability: Take into account the respect for the social and sanitary conditions in the choice of the suppliers and the companies, including to the choice of customers.
Ressources: Make sure that the choice of materials and equipments relaying on environmental and social criteria throughout them.
Water, Air, Soil: Consider water, air and soil as common good of humanity which it is necessary to protect and not to pollute during the life cycle of products or services.
Energy: Minimize needs in energy during the life cycle of products or services. Favor the renewable and not polluting sources.
Waste: Minimize the pollutions on the environment and favor the recyclability of products or services, as well as the residues and the linked packagings.
Health: Take into account the sanitary impact on the alive by making sure of the harmlessness with creation of new products or services, in the current state of the knowledge.
Biodiversity: Take into account the biodiversity in order to protect her and aim at its preservation during all the life cycle of products or services.
"
These commitments meet those of the customers feeling the urgency of climate and human issues. Beyond goodwill or personal positioning, it has become necessary that, collectively and concretely, the skills of designers meet the environmental specifications of their customers. Skills which will soon become imperative in order to respond to larger public or private markets.
http://www.alliance-francaise-des-designers.org/code-of-ethics-for-professional-designer.html