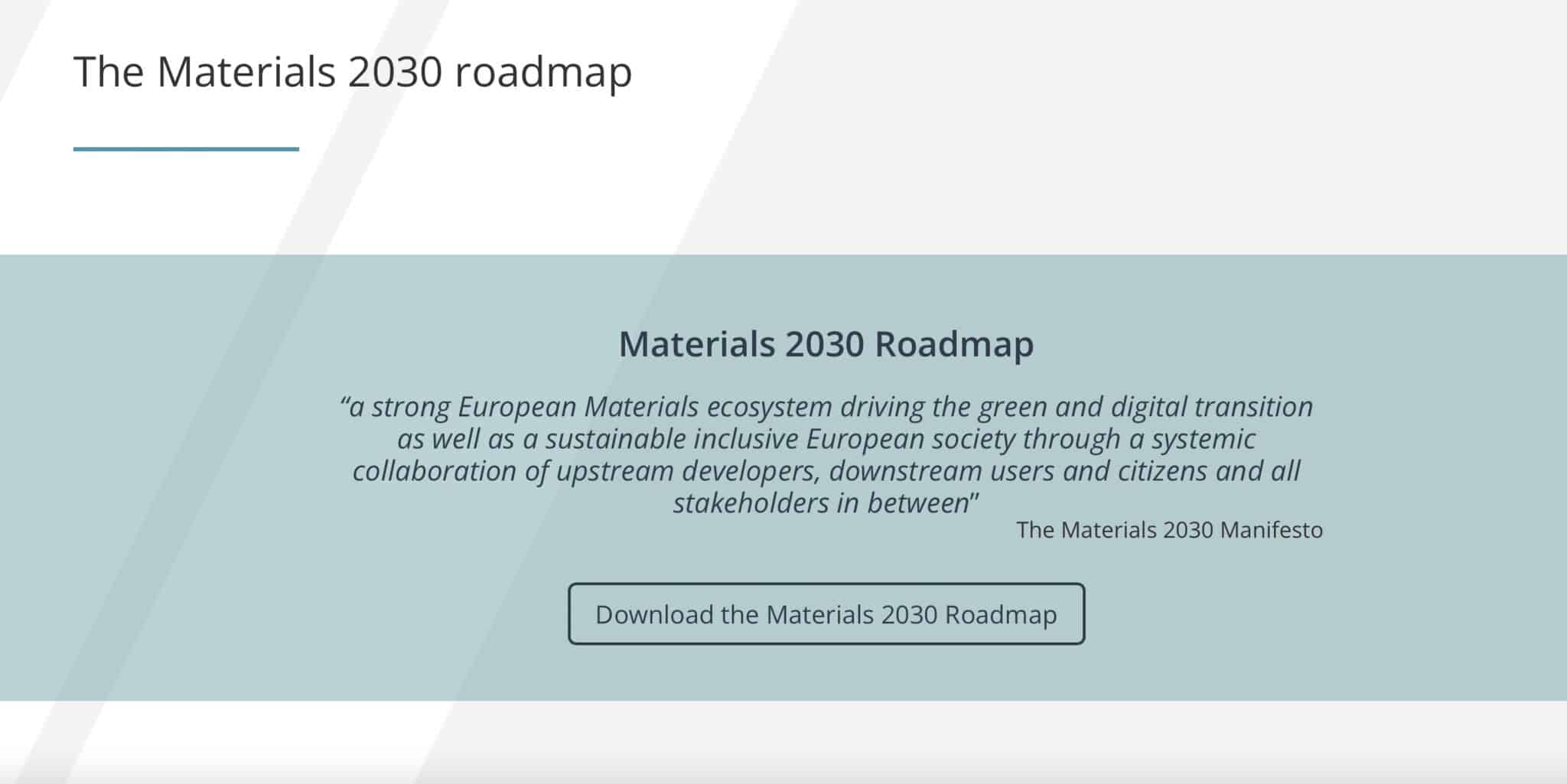 Advanced Materials 2030 Initiative
19/12/22
The final version of the Materials 2030 Roadmap is now available
The Roadmap by Advanced Materials 2030 Initiative invites all interested stakeholders to support and co-create the new strategic European materials agenda and necessary actions for implementation in the framework of a European Materials Initiative for the planet, people, and prosperity.
As a key milestone towards a unified and sustainable European Materials Initiative, this Materials 2030 Roadmap:
considers digitalisation of materials development as a major need to accelerate all aspects of materials design and development. It requires new research and development methodologies, merging computational and experimental materials science based on modelling, simulation and high throughput characterisation. Central to success is reliable and easy access to data. It should allow to design novel materials with a speed unattainable in the usual process of discovery and to control material behaviour;
identifies common manufacturing technologies and looks at the conditions for the processing and scale up of new materials, components and products, notably process optimisation, decarbonisation, mass customisation, zero defect production, enhanced multi-materials processing and new processing technologies;
identifies priority areas as game changers in the nine innovation markets highlighted in the Materials 2030 Manifesto, addressing the industry and research community needs with expected impacts to improve EU sovereignty, capacity to reduce environmental footprint, and potential to improve sustainability. These priority areas should form the basis for the development of a novel European strategic materials agenda.
highlights the importance of an enabling policy framework through harmonised criteria for safe and sustainable by design chemicals and materials, evidence based life-cycle assessments, harmonised norms and standards, robust health and safety protocols as well as targeted education and training actions across the value chains;
argues that strong social foundations are essential for the governance where materials stakeholders, industry, designers, trade unions, workers and civil society are involved in the discussions, pushing for the new materials valorisation. It therefore proposes principles for inclusive governance allowing stakeholders to engage in a new form of cooperation.
Join the AMI2030 initiative: https://www.ami2030.eu/join-us/
More Information: www.ami2030.eu
Related article: www.beda.org/news/beda-signed-materials-2030-manifesto-on-7-february-2022/
Last updated: 01/08/23
Supporting Documents