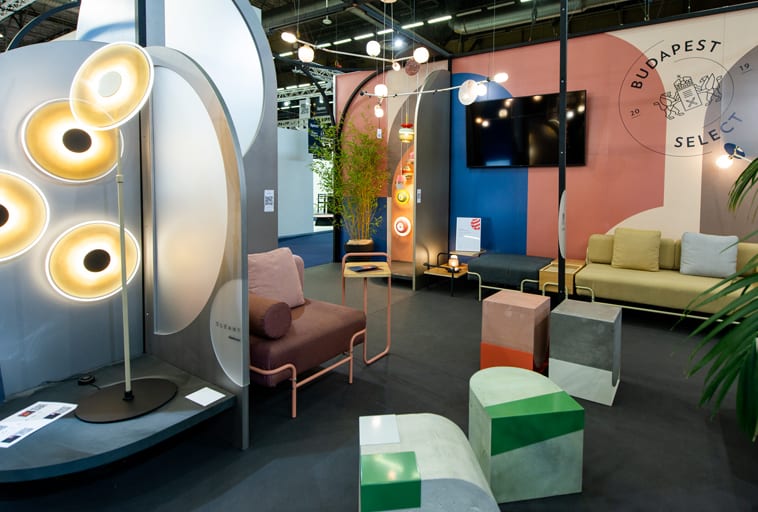 14/09/21
The Hungarian Fashion & Design Autumn
This autumn, the Hungarian Fashion & Design Agency launches a series of targeted programmes to promote Hungarian fashion and design brands and it will provide an opportunity to participate at several events in Budapest, abroad and digitally as part of the Fashion & Design Autumn. The first and foremost international design event is the Maison&Objet design fair.
Hungarian Designers at Maison&Objet
The amazing and innovative Hungarian designs are installed in the Signature Hall this year, which is essentially known as the hall of trendsetter brands. In the 70 square meter exhibition venue, the works of 10 talented designers, including five products made as part of the HFDA design LAB programme, are shown at the Budapest Select stand.
This year's stand concept uses creative solutions to divide the space functionally, accentuating and highlighting these special design objects. The concept design is mostly characterised by using raw materials, as well as playful, mysterious features, walking through which one can discover the masterpieces of each designer one by one, without visual distractions.
Hungarian Designers at Le French Design Galerie
In addition to the Budapest Select stand, the series of works by the seven designer-manufacturer duos participating in HFDA's first design LAB incubation program will be showcased at the gallery of the Le French Design, by the organisation of the Valorisation de l'Innovation dans l'Ameublement (VIA), the French design institute, at the same time as the design fair takes place.
Learn more about the Hungarian brands at Paris Design Week – 9-13 September 2021:https://hfda.hu/en/articles/this-year-hungarian-designers-will-exhibit-their-products-at-two-locations-at-paris-design-week-2484Follow the Hungarian Fashion & Design Agency to get the latest news about Hungarian design and fashion:www.facebook.com/hfdagencywww.instagram.com/hfdagency https://www.linkedin.com/company/hfda