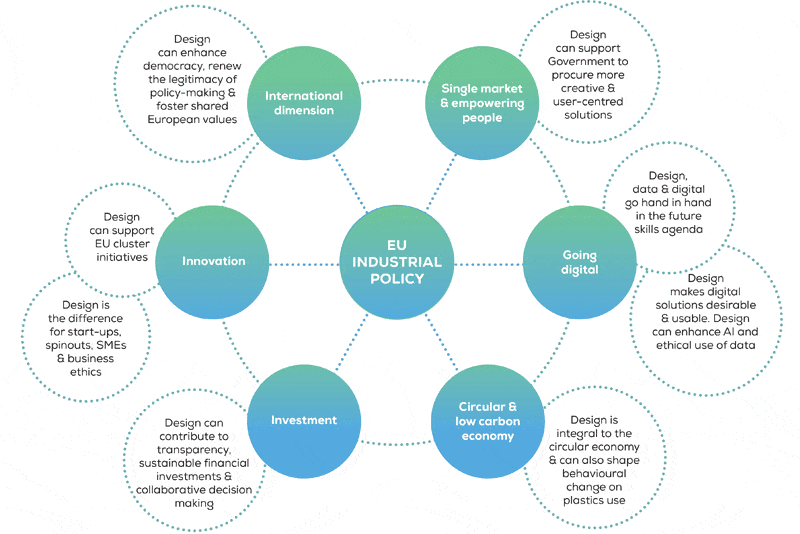 22/06/19
Towards a European Design Action Plan 2.0
BEDA CALL FOR EXAMPLES OF CURRENT PRACTICE
"It isn't about what Europe can do for design but what design can do for Europe."
Within the European Commission's renewed Industrial Policy there are six top-level priorities: Single Market, Digitalisation, Circular Economy, Sustainable Investment, Innovation and Europe's International Role. At our Insight Forum event to mark BEDA's 50th Anniversary, BEDA members and stakeholders explored concrete ways in which design could contribute to these priorities in the hope that we may have another Commission endorsed Design Action Plan. It isn't about what Europe can do for design but what design can do for Europe.
Of course, there will always be preconditions for design to flourish in the EU economy and BEDA will continue its endeavours to get design into H2020 programmes, reform the NACE codes and raise awareness of design across Directorate-Generals; however, it is time for us to reposition ourselves.
We need to think beyond what design is currently achieving and how it can contribute to the significant challenges facing Europe like cyber security, reducing plastic waste, the changing workforce, a loss of legitimacy in public policy-making, ethical use of data and sustainable financial investments, among other pressing concerns. Based on the BEDA Insight Forum workshop, some emerging areas were identified where design could have an impact on the Commission's agenda.
With the ambition for the new Commission to be in place by the end of the year, there is a real opportunity to influence how design is perceived and adopted. Design is iterative. These are emerging ideas and will be iterated and further developed.
The BEDA Board is now inviting BEDA members to identify case studies of best practice that demonstrate what design can achieve, in contexts relevant to EU policy makers and which show design having an impact in areas that might not usually be associated with design, whether sourced within or beyond the network's membership.
With your support, we are seeking signposting to, and concrete examples of:
Design within public procurement guidelines.
Design, data and digital skills agendas.
Design and the ethical use of data.
Design and the use of AI.
Design and the circular economy.
Design changing behaviour on the use of plastics.
Design contributing to sustainable financial investments.
Design within clusters or cluster policy.
Design being the difference for start-ups, spinouts & SMEs.
Design for democracy, public policy-making and EU values.
Design and Intellectual Property in the age of blockchain technologies
Other: Is there a pressing issue that you believe is missing off this list? Please let us know.
A case study need not be lengthy. It may be a pointer towards some emerging practice of which you have become aware or a description comprising key information which can be refined and edited at a later point. Where possible images and links can also be provided.
Providing structured information on one of your own initiatives, or a project from a member, will provide valuable support to the development of BEDA's future European Design Action Plan. We are asking that, in the first instance, you let us know if you have a case study in mind by Friday 12th July 2019.
The intention is for BEDA to communicate what it sees as the emerging areas of content for a renewed Design Action Plan – with relevant evidence provided through the case study material – at the BEDA International Design Policy Conference in Helsinki on 5 December as a part of the side events programme of Finland's Presidency of the European Council.
The final BEDA Design Action Plan, when it emerges, will be used to engage widely across European Commission Directorate-Generals and any included case study material will have formed an important part of its development. This moment is a key opportunity for you to influence future European policy for design.
To submit or enquire about case studies and what we are looking for, please emailAnna Whicherawhicher@pdronline.co.uk