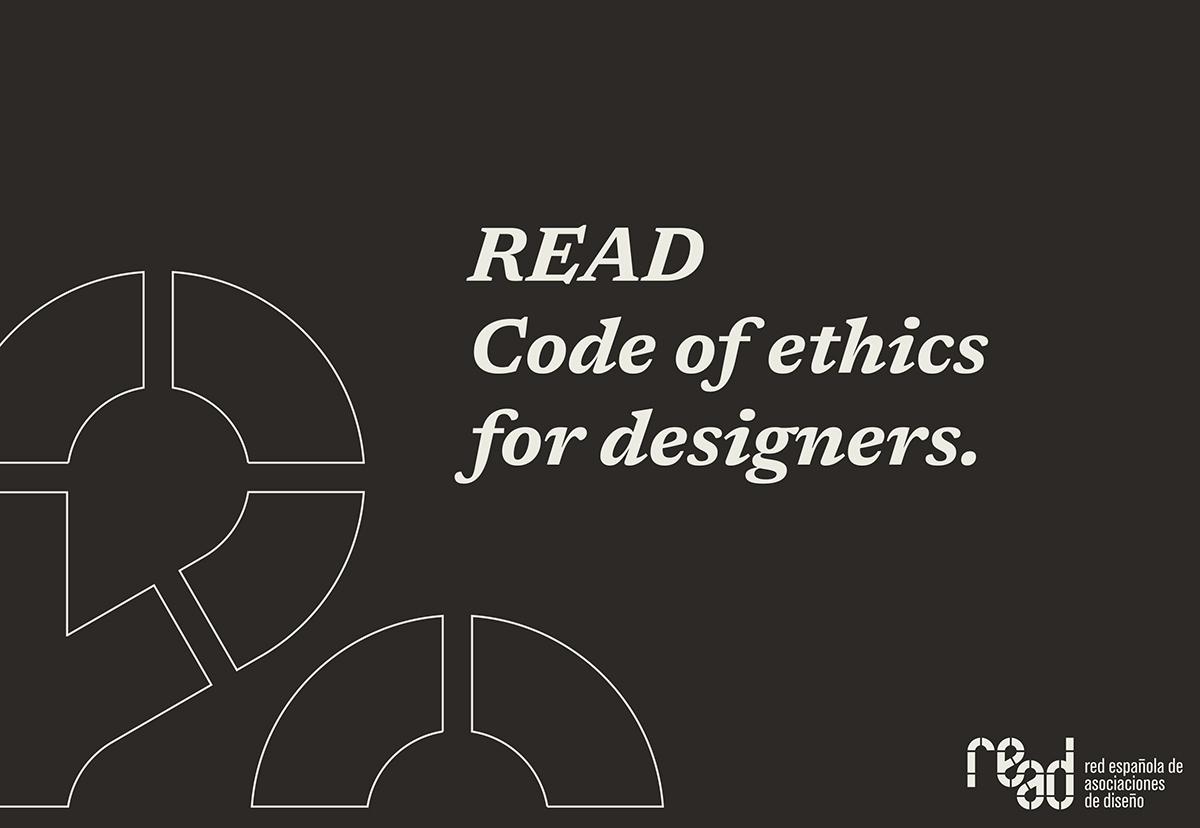 19/05/22
The First Code of Ethics for Designers in Spain Unanimously Approved
*6 inspiring values, 26 pages, 52 articles and a common goal: to help consolidate the ethical culture of design in Spain.*
After its unanimous approval during the last General Assembly of the Spanish Network of Design Associations, the READ Code of Ethics for Designers is now available for consultation.
Written by the philosopher and professor Toni Mañach-Moreno, this code is the result of a collaborative work process of 54 professionals related to design, philosophy, law and other fields.
The READ Code of Ethics for Designers is a tool that unifies and highlights the values ​​of design professionals, with an immediate application in work processes. This is a milestone due to the importance of Spanish design having an ethical code.
The READ Code of Ethics for Designers is structured into four blocks in which, in a familiar language, its functions are described, as well as the values ​​that have inspired it, the levels at which the articles that comprise it are included, and the 52 articles themselves.
The meetings of the working group called "Good Practices" have been crucial, bringing to the fore the values ​​that inspire the professional practice of the READ network designers. The six ones that govern this code are born from this debate: sustainability (to conserve the environment), criticism (to build a better future), engagement (a matter of attitude), respect (which comes from everyday life), creativity (to build a better future) and resilience (courage to face extreme situations); and its three levels, which range from the general principles of applied ethics to the specific rules of professional design practice.
Does the decision we have made meet a basic ethical standard? Does our professional practice comply with the law? Can a conflict of interest be avoided? Is everyone involved in the design process respected? What are bad practices in design? And the good ones?
In short, the Code is a tool to make this profession a better world.
The document is available in English and it is currently being translated into the rest of the co-official languages ​​in Spain (Galician, Basque and Catalan), in addition to Valencian.
The READ Code of Ethics for Designers will be presented on June 22 in the city of Valencia, during a work table on 'Good Practices', one of the many activities organised this year by World Design Capital Valencia 2022.
Link to see the READ Code of Ethics for designers below:https://www.designread.es/wp-content/uploads/2022/05/2022_READ-Code-of-Ethics-for-designers_ENG.pdf