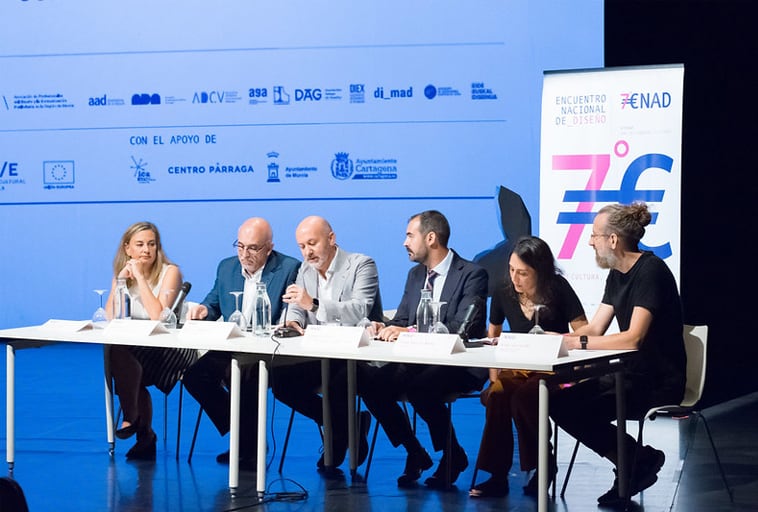 19/11/19
We are Culture, We make Economy
THAT WAS "7€NAD. WE ARE CULTURE, WE MAKE ECONOMY", READ'S ANNUAL MEETING
Produced by DIP, the Association of Professionals of Design and Advertising Communication of the Region of Murcia, which currently chairs the National Network of Design Associations, and enriched with contributions from the rest of READ associations, the activities of the seventh edition of this national design meetings took place in the Spanish cities of Murcia, on September 27 and 28, and Cartagena, on Sunday 29 in the morning.
Under the motto "We are Culture, We make Economy", over a hundred participants were able to listen to those responsible for regional design policies that are being developed in Galicia, Euskadi and the Valencian Community. Also, they learned about the developments of the RIS3 Murcia and the projects of the Technological Center of Wood and Furniture in the Region of Murcia, as well as the plans of the Ministry of Science, Innovation and Universities. It was also possible to discover the financing opportunities offered by the Creative Europe program for European-level design projects.
Three collaborative workshops were held on three complementary subjects: "Design Strategies", one more step towards the realisation of a roadmap to propose to the next government; "Code of Ethics for Design" which, based on a comparison of existing codes, has devised a validation tool ready to be disseminated among the community concerned, and "From Spain With Design", a READ's project in an advanced stage, designed to promote Spanish design internationally.
7€NAD also offered the conference "Economy and network design" by the philosopher and teacher of design in Turin Pedro Medina, followed by several micro-presentations in two differentiated blocks: on the one hand, ongoing READ projects, such as "Design Ecosystem","Design Memory","Transferencias Design", or "Asturias Designs" and, on the other, a review of Murcian design talent from different areas, such as the circular economy, feminism, business innovation, user experience, etc.
Among all this activities, we had some relaxing pastimes: a tribute to the attendees, "Design as seen by 18 Murcian cartoonists" and a guided visit to the Roman Theater of Cartagena.
As in the previous meetings, the presentations, the conclusions of the tables, photos, videos and reviews, are published on the official website www.designread.es/7enad