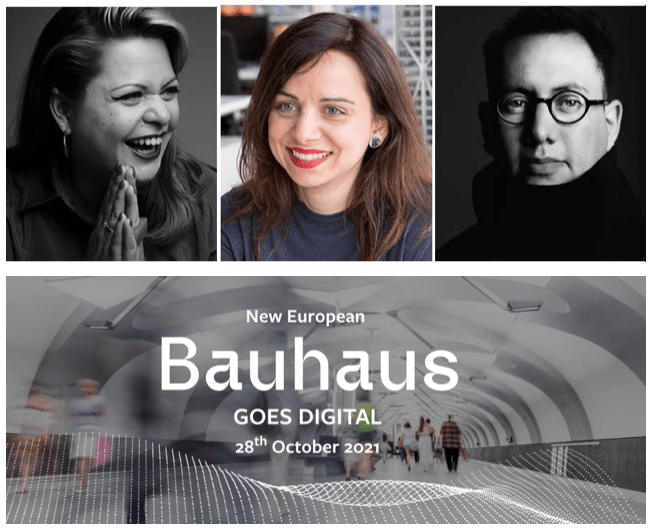 03/10/21
Welcome to the New European Bauhaus Goes Digital event! Registration open now.
Join in and listen to keynotes by Lisa Lang, Martha Tsigkari and Refik Anadol about the possibilities of data-driven methods in architecture, design and art.
Thursday October 28th12:00 – 15:00 CET / 13:00 – 16:00 EETbeautiful | sustainable | togetherOnline event.
Registration open nowLisa Lang is a European technologist, innovative textile expert and founder of ElektroCouture and ThePowerHouse Agency. She has gained recognition as one of Forbes Europe's Top 50 Women in Tech. Martha Tsigkari, a Partner at Foster + Partners. Her background spans architecture, engineering, and computer science. Her work for the Applied Research and Development group incorporates computational design, human-computer interaction, machine learning, and optimisation. Refik Anadol is a media artist, director and pioneer in the aesthetics of data and machine intelligence. In taking the data that flows around us as the primary material, Anadol offers us radical visualizations of our digitized memories and expands the possibilities of architecture, narrative, and the body in motion. In the event's Demo Rooms participants get to see and experience contemporary examples of data driven methods and innovations. Themes of the Demo rooms are Cities and Neighbourhoods, Buildings, User-Oriented Design and Material Flows.More info here.Come together to learn, discuss and co-create what digitalization means in architecture, design and art. How has it changed the way we see the world today? What makes work meaningful in the digital age?About the New European Bauhaus
The New European Bauhaus is a creative initiative that aims to combine sustainability, inclusion and aesthetics. It is an environmental, economic and cultural project instigated by the European Commission. Read more here.
Follow #neweuropeanbaushaus on Instagram
The event is organized by the Finnish Ministry of the Environment in cooperation with the BEDA – Bureau of European Design Associations BEDA. Building Information Group Finland, University of Porto, Aalto University and Archinfo Finland.