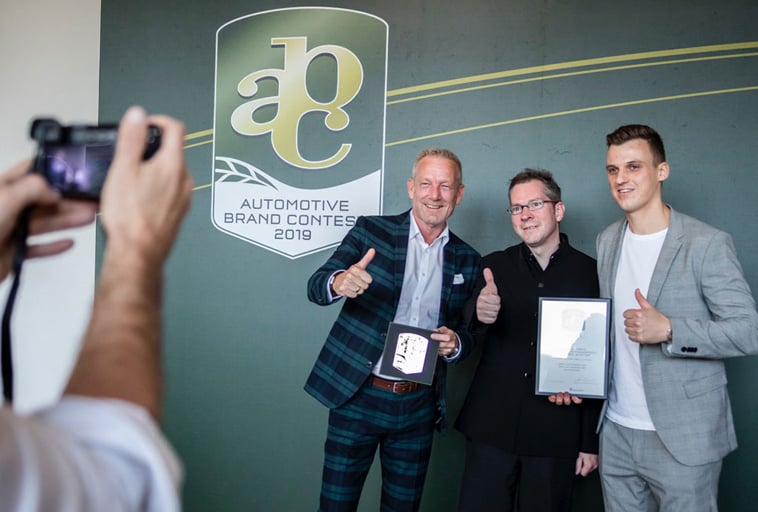 22/09/19
Winners of the Automotive Brand and Bicycle Brand Contest 2019
On 10 September 2019 the German Design Council honoured the winners of the Automotive Brand Contest and the Bicycle Brand Contest 2019 during the IAA in Frankfurt am Main. On the same day, the German Design Council officially opened the call for entries for the next Automotive Brand Contest. Those interested in participating in the 2020 competition are able to register now – see below.
Automotive Brand Contest 2019 and Bicycle Brand Contest 2019 – the winners
Each year the jury of the Automotive Brand Contest awards the honorary title, "Brand Manager of the Year". This year the jury has chosen to recognise Maria-Elisabeth Schaeffler-Thumann and Georg F. W. Schaeffler, the majority shareholders and guiding force behind the Schaeffler Group, an international company with a single unifying vision: to think in the long term and to act responsibly.
All winners of the Automotive Brand Contest can be found at:https://www.automotive-brand-contest.de/en/the-winners.htmlAll winners of the Bicycle Brand Contest can be found at:
https://www.bicycle-brand-contest.de/en/the-winners.html
Call for Entries for the Automotive Brand Contest 2020
The Automotive Brand Contest is the only international design competition that encompasses all businesses in the mobility industry, including the design and communications agencies operating in this sector. In this competition the German Design Council pays tribute to outstanding product and communication design, with a focus on the integral and consistent use of branding across all media and products.
Registration deadline: 9 December 2019
Early bird discount available until 8 November 2019
Projects from the motorcycle and bicycle industries are presented under the Automotive Brand Contest's "Motorcycles/Bikes" and "Parts & Accessories" categories
Awards ceremony: April 2020 during AUTO CHINA in Beijing
To learn more about the competition, visit https://register.automotive-brand-contest.de
---

The organiser – German Design Council
The German Design Council is one of the world's leading centres of expertise in communication and knowledge transfer within the design and branding sectors. Currently, more than 300 companies belong to its foundation. The German Design Council was founded in 1953 on the initiative of the German Federal Parliament to support and enhance the design expertise of German industry. It pursues a wide range of activities with a single goal: to promote awareness of how to increase brand value on a sustained basis via the strategic use of design.
For more information visit:www.german-design-council.de/en