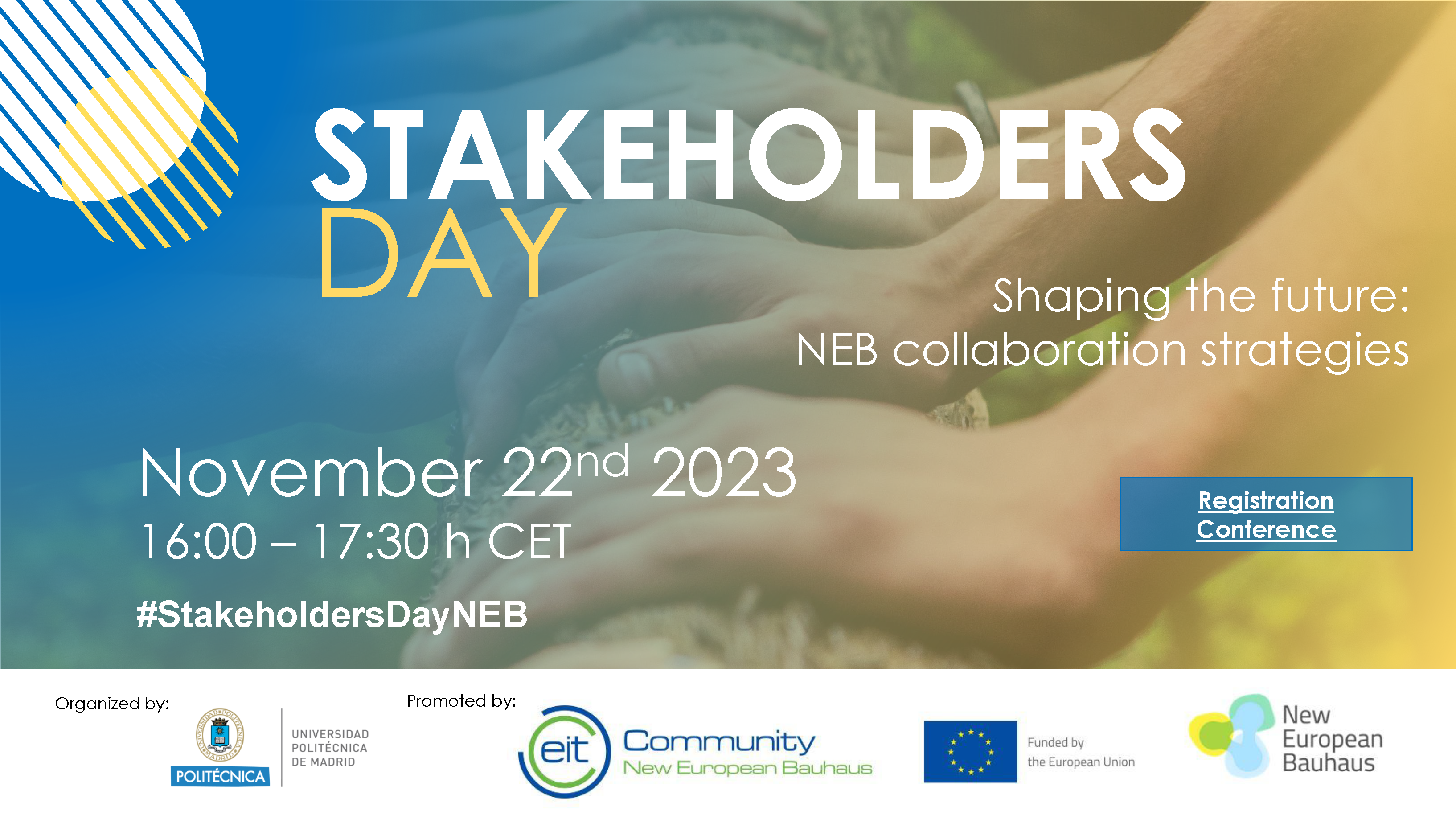 NEB | Stakehloders Day 2023
Achieving entrepreneurial goals in the long term requires the involvement and collaboration of all stakeholders, joined to achieve scalable and effective solutions. Through disruptive solutions provided by startups, we can implement and achieve these goals.
STAKEHOLDERS DAY will discuss the different strategies and the role of each of the actors involved to strengthen the collaboration networks and to contribute towards a more aesthetic, inclusiveness and sustainable future.
Programme
16:00 -16:10
Welcome
TBC, Universidad Politécnica de Madrid
Alexandros Nikopoulos, Strategic ProgrammeBuilder at EIT Climate-KIC
16:10 –17:30
New European Bauhaus: connecting with entrepreneurs
Pier Paolo Peruccio, Member of the Board of Directors at the World Design Organization
Politecnico di Torino
María Risueño, Architect &Senior Design Strategist
Massachusetts Institute of Technology & Other Tomorrows
Mark Stoevelaar, Project Lead Startup Residence
City Hall of Amsterdam
Laurent Lasserre, VP Sales Western Europe & Country Manager France
Plan A
This activity is open to all audiences interested in knowing more about the New European Bauhaus and its implementations within different types of institutions.
Registration: https://docs.google.com/forms/d/e/1FAIpQLSer3QjeDRE5mR2LWWsOlkwJ8TzkrkEwJsfi5PNn0IbH3zURHA/viewform
This session is organized by the Entrepreneurship department at Universidad Politécnica de Madrid and EIT Climate-KIC, in the framework of the EIT Community NEB Booster 2,0.
PDF file about the event: 2023-11-13 Stakeholders Day NEB UPM