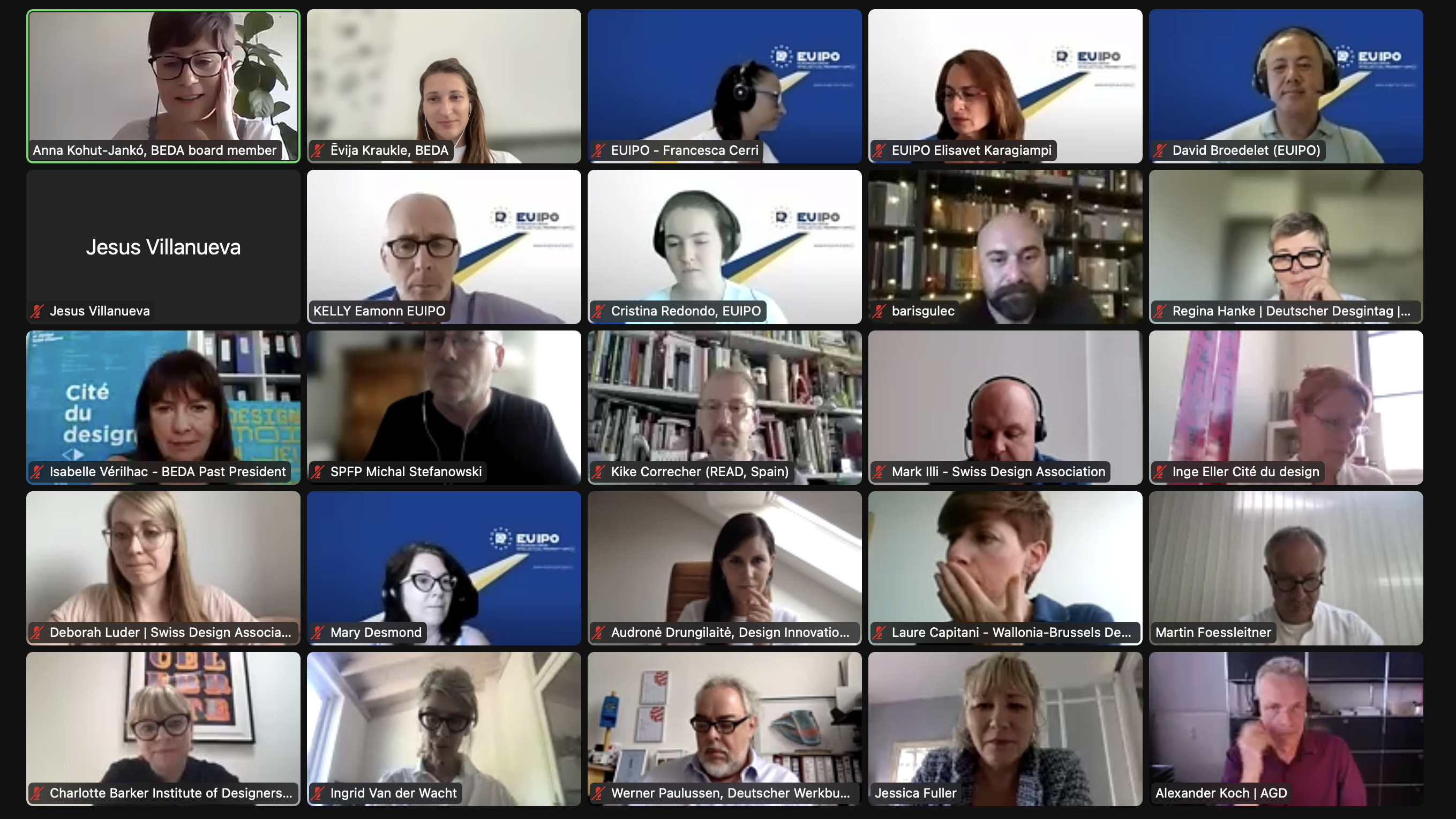 Screenshot from BEDA ODD about Intellectual Property Rights with EUIPO, 5 July 2023
20/07/23
Highlights: Open Door Dialogue on Intellectual Property with EUIPO
On 5 July 2023 BEDA hosted an Open Door Dialogue (ODD) session with experts from the European Intellectual Property Office (EUIPO) about the latest and ongoing activities in the Intellectual Property field.
Topics:
Introduction to the EUIPO
Designs protection (UCD and RCD)
RCD registration process, and promotional materials – same presentation delivered to EFIC
Feedback from BEDA members (i.e. questionnaire)
Statistics
DesignsEuropa Awards
SME Fund
BEDA is expressing big thanks to the EUIPO team that shared their knowledge and participated in the ODD session: Kelly Eamonn, David Broedelet, Elisavet Karagiampi, Mary Desmond, Francesca Cerri, and Cristina Redondo.
Summary
The survey conducted among BEDA members shows the relevance of intellectual property rights for our members in several ways. Primarily in relation to priorities for design in Europe as a measurement tool for traceability and impact and as a business support element, strengthening competitiveness and innovation. In relation to the design profession IPR awareness should be an integral part in the education curricula and part of the continuous professional development. The already existing EUIPO statistics prove the market value and economic impact of design.
The SME Fund support programme offered by the EUIPO as highlighted in detail, provides 4 types of vouchers for SMEs based in the EU or the Ukraine. 90% of cost reimbursements apply to IP Scan services which are a great tool for developing the SME's IP strategy.
The question was raised how intellectual property rights function, and how far protecting the visual appearance can be sufficient. Further discussions on existing protection forms and future possibilities in IP protection are an interesting topic BEDA is keen to take forward in cooperation with EUIPO.
Due to lack of time the topic of the gender gap in IP filings – as highlighted in a recent study by EUIPO – could not be covered in this session. Since it is a pressing issue, it will be discussed if BEDA organises another ODD session with EUIPO, or if another format is more suitable.
View the EUIPO presentations from the ODD session here:
Presentation 1: drive.google.com/file/d/1h19GiY[…]usp=sharing
Presentation 2: drive.google.com/file/d/1N1[…]share_link
Request access to view the recording: drive.google.com/file/d/1H8[…]usp=sharing
Resources/ links shared: