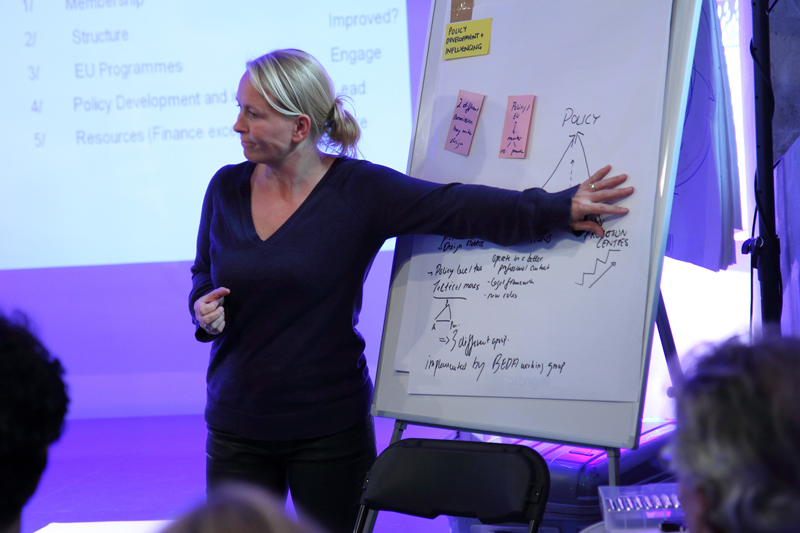 BEDA | Christina Melander | Workshop
BEDA sees the capacity of design to offer solutions in the face of some of the world's most extreme challenges. As such, BEDA continues to shape and lobby for European design – in turn, promoting sustainable prosperity for every designer and citizen of europe.
In the DNA of BEDA: striving for sustainable growth
Design plays a major role in shaping our economy, culture and civil society, especially in times of fundamental change and when imagining our futures. When design is holistic in its approach it unites aesthetics with functionality while remaining committed to sustainability and compassion.
It is also true to say, design links science and research, technology and economy. With this in mind, designers have the skills to promote mutual understanding and trust between practices and industries – from craft to creative leadership, from matter to human experience and from understanding to knowledge.
"The design industry has an enormous impact on the GDP and is also characterised by a vibrant community. Designers have a strong sense of this community and a deep understanding that values such as democracy and freedom are the frame of the profession."
Christina Melander, BEDA Vice President/ Danish Design Center, Denmark

New European Bauhaus: What is it about?
The New European Bauhaus (NEB) is a creative and interdisciplinary EU Commission initiative that strives to connect the European Green Deal to our living spaces and experiences. It started in October 2020 with the famous speech from the EU Commission President Ursula von der Leyen where she announced the need for a new approach to tackle the most urgent problem of our time: climate change.
Why is it important for design?
The New European Bauhaus signifies a turning point in design. It is the first time that the European Commission has acknowledged the strength of design methods.
The EU Commission programme states: 'The New European Bauhaus initiative calls on all of us to imagine and build together a sustainable and inclusive future that is beautiful for our eyes, minds, and souls.
Beautiful are the places, practices, and experiences that are:
Enriching, inspired by art and culture, responding to needs beyond functionality.
Sustainable, in harmony with nature, the environment, and our planet.
Inclusive, encouraging a dialogue across cultures, disciplines, genders and ages.'
How is BEDA involved?
As the first partner of the New European Bauhaus, BEDA supported the position of design throughout the full development cycle of the initiative. Since 2022, the NEB-Calls are handled by the 'EIT Climate-Kic' and the EU-New European Bauhaus Team is facilitating change through festivals, awards and the ongoing support through the European Commission presidency.
Advanced Materials 2030: What is it about?
Materials, especially advanced materials, are the backbone and source of prosperity of an industrial society. In the context of the radical transformational changes of the 21st century, it is precisely these advanced materials that will play a decisive role. The Green Deal and the Digital Decade address societal challenges through establishing high-priority policies for Europe. 70% of all technical innovations are directly or indirectly attributed to advanced materials. Yet, advanced materials often contribute to the dominant share of the cost of technologies. Therefore, smart advanced materials' developments are indispensable and provide game-changing solutions driving the twin green and digital transformation. We believe that dovetailing upstream R&D and downstream applications development is fundamental to operating at the necessary speed, scale, and efficiency, thus offering strong solution-driven value creation.
Why is it important for design?
Materials need Design – Design uses materials. Sustainable prosperity needs a planet centred approach towards materials and its unintended and intended implications. Design methodology can be a cornerstone to bridge the gap between basic research and application in a way to enable sustainable prosperity.
Design bridges the connection between the needs of end users and the innovative industrial solutions.
How is BEDA involved?
BEDA has signed the "Materials 2030 Manifesto" presented in February 2022 to Commissioner Marya Gabriel, under the auspices of the DG Research & Innovation, Prosperity (RTD), together with seven representatives of research and industry agreed to establish the modern approaches for design and development of advanced materials.
This work was realised thanks to Bart Ashmann, from CLICKNL, past BEDA board member and BEDA president, through his great participation in the experts' working group at the end of 2021.
Then in 2022, a strategic roadmap was established to support and co-create the new strategic European materials agenda and action plan, with the following key points:
Emphasizing the need to use digitalisation to speed up materials development and design,
Common manufacturing technologies,
Priority areas as game changers in the nine innovation markets highlighted in the Materials 2030 Manifesto,
Policy framework through harmonised criteria for safe and sustainable by design chemicals and materials,
Strong social foundations are essential for the governance.
As partners of the Material Manifesto, BEDA participates in workshops for stakeholders from different disciplines and engages in ongoing discussions with them. Alongside that BEDA also takes part in working groups and activities, ensures the presence of design and supports the design community with knowledge within the Material Commons.
IP-Rights: What is it about?
Intellectual property rights (IPR) are important business tools and valuable assets for designers and companies that have the potential to create important income streams. Different types of IPR include trade marks, designs, patents and copyright.
Why is it important for Design?
The main purpose of IPR is to ensure designers are benefitting from their creative work. Intellectual property rights awareness and management are key to the success of design businesses as well as being integral to a sustainable and competitive Europe.
According to the latest studies from the European Union Intellectual Property Office (EUIPO), 39.4% of all employment in the EU can be attributed, directly or indirectly, to IPR-intensive industries. 47% of the total economic activity (GDP) in the EU is attributable to IPR-intensive industries, worth EUR 6.4 trillion and the contribution of IPR-intensive sectors to employment and economic activity has further increased compared to the previous 2019 study.
Despite these facts, many design achievements still don't get IPR protection either due to lack of awareness or the lack of an appropriate protection form. While SMEs account for 99% of EU businesses, less than one out of ten have any form of registered IP rights. It is telling to note that organisations with IP protection earn 68% more revenue per employee than those that do not.
How is BEDA involved?
Through cooperation with IPR institutions, such as the European Union Intellectual Property Organisation (EUIPO), BEDA has been able to support and guide the design community on IPR-related matters. The result is increased awareness among the industry leading to increased competitiveness and fairer remuneration.
The BEDA president has contributed to the Design Europa Awards jury since its first edition in 2016, multiple times by chairing the jury. The DesignEuropa Awards was established by EUIPO to recognise excellence in design and design management among holders of Registered Community Designs (RCDs).
BEDA is also actively taking part in the EUIPO User Group Meetings, represented by our member organisation Ornamo, and their legal adviser, Iiris Adenius.
These meetings seeks to:
Bring together diverse user associations to exchange views,
Discuss questions on procedures, practices, and tools,
Ensure that the EUIPO actions are user-focused and developed in line with the changing design industry and user needs

e.g. initiatives to effectively support SMEs in the post-pandemic period.
Isabelle Vérilhac, president of BEDA, being one of the expert speakers on the first DesignEuropa Talks, emphasised the importance of IPR in design education in the time of digital transformation and in maintaining our common European values. These are also aspects why BEDA is dedicated to continuously work together with different stakeholders among them EUIPO for creating a better future by design.